Kid Nation

United States
September 21, 2007 2:49pm CST
I just happened to be unable to find anything better to watch on Wednesday night, so I decided to check out the new reality show, Kid Nation. I came away with an empty feeling. This show is a deliberate attempt to teach children that they do not need parents, rules, or established institutions. I found myself wondering just what kinds of parents would allow their child to even participate in such a show. Also, true to the greed-based premise of all reality shows, this one did not disappoint. One girl won a gold star that was later revealed to be wort its actual weight, $20, 000. I feel that this show should never have been aired. I know that everyone will not agree with me, but you have to remember, the children are the future. It does not bode well for parents whenthey are viewed as unnecessary in a child's life. The little boy who opted to go home at the show's end was the high point of the show.
9 responses

• United States
21 Sep 07
I'm glad to hear that someone who watched it did not like it. When I first heard about this reality show I said to myself, "Haven't they read Lord of the Flies!?" That is one book that I read in school that I did not forget. Granted, I didn't think that this reality show would have murder, because I don't think they'd be allowed to show it if it did. I just think it's ridiculous and I know if I had a kid there was no way I'd let my kid go on a show like this. If you want to learn if kids can run their own nation, read lord of the flies. I think there are a lot of things kids have to learn before they could attempt to run their own society.

• United States
21 Sep 07
I am familiar with Lord of the Flies, raychill, and your analogy is right on. I am very much of the opinion that kids should be allowed to be kids with no pressures on them to act as little adults. I think the parents who allowed their kids to participate in this show must have been driven to do so in hope of financial gain.

• United States
22 Sep 07
oneandonemakesix, I agree that I'm curious as to what people will think about the show. Fortunately I know I will never tune in myself so I'll probably read about it here also. I, too, had to read and watch Lord of the Flies and it always kind of spooked me. I agree it's definitely being done for the wrong reasons.

•
21 Sep 07
I haven't seen this show sweety but it sounds terrifying! My first thought was perhaps it was reverse psychology they were using in this show but it does seem pretty strange! I agree with you about parents allowing their children to undergo this 'experiment' and I believe our children should be encouraged to be all they can be. They need to learn values and they (despite what they might say to the contrary) like having boundaries and discipline! xxxx

• United States
21 Sep 07
I honestly believe, mummymo, that parents should have given this show a lot more thought before permitting their kids to participate. A child's mind is incapable of making adult decisions-as a rule. You can find the odd exception, but when it all washes out the child is to be taught and not the other way around. That is why parents have the position of guardianship. Kids do not need to be encouraged that they can make their way through life without benefit of parental guidance.

• United States
21 Sep 07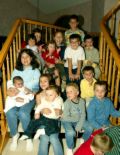 I could never get into reality shows and when I saw the commercials for this one I thought...how ridiculous. Kids have enough problems today without having them think they don't need their parents! I give the boy who left a lot of credit for being smart enough to leave.

• United States
21 Sep 07
You're absolutely right, ctry! I don't know how much more stupid these people can get. And, the boy who chose to go home was the youngest of the entire bunch!

• United States
2 Nov 07
I didn't see this show, but after reading what you and others are saying about it, I'm glad I didn't. I guess it depends upon your age, but haven't you noticed over the years that just about every sitcom, cartoon, disney production, and most movies have made kids look more and more like all-knowing demi-gods, while parents are portrayed as stupid, useless, daft people with irrelevant and ignored opinions? I've noticed. And I've seen the change in my younger kids who have watched those types of shows on TV or in the movies much more than their older siblings. This "Kid Nation" thing is not an isolated incident in a vaccuum--it is the natural follow-through of most TV programs and the vast majority of movies!

•
27 Oct 07
I watched this show a few times and was disapointed. They say there is no adult interaction, but what about all the cameramen and all the posed shots for the benefit of the show. I heard that one of the children drank bleach. How safe is that?


• Canada
22 Sep 07
What a negative spin on the show geesh. If I hadn't seen Entertainment tonight last night I may have agreed with you but after seeing the kids from the show talking about the experience I don't feel that way at all. The kids were asked what they learned from the show and they said that they wanted to be back home and being on their own was too hard. I don't think that means what you are trying to say but anyhoo thanx for he discussion

• United States
22 Sep 07
I heard about this show and decided not to watch it just for the reasons that you specified. I thought that the children in this show were being exploited, and that the parents who agreed to this should be ashamed of themselves. This show was just awful. Honestly, what are parents thinking of when they put their children on this show?

• United States
21 Sep 07
Well, I also watched this show but I didn't see it as they were teaching the kids that they don't need the parents. I see it as they are teaching them what it takes to be an adult and how each decision that you make is important to every day life. It wasn't as good as I had expected but I think that it is a good lesson for the kids and I believe that the kids who do the most work for the week deserve something. I believe that $20,000 is a little much but I think it will teach the others to work hard and do all they can to help out.