restaurants - deciding choices?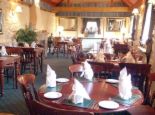 Philippines
September 22, 2007 7:33pm CST
do you decide what to do and what to order before you enter in a restaurant? or do you decide what to order only when you see the menu?the first ten minutes in a restaurant are the most treacherous. already hungry, you are bombarded by smells and visual images of food being eaten by others nearby. and then the menu arrives and every item described seems irresistible. I do not decide what to order before arriving in the restaurant. I only decide when the menu arrives and mentally check the prices of the food and the total price I am going to pay. the best thing to do in a restaurant is to generally decide what to order several hours before arriving at the restaurant and have a backup item in mind in case the first choices are unavailable. what do you do when you arrive at restaurants? how often do you dine outside?
7 responses

• Philippines
23 Sep 07
Almost every Sunday we dine out. Every other Sunday we (my husband and I) compromise on the type of food we will eat. He likes Chinese food, I like Italian or Japanese sometimes. So one Sunday we go to a pizzeria, then the next Sunday we eat at a Chinese Restaurant. Most of the time, we already know what kind we want to eat even before we get to the dining area. Although sometimes we do still have a hard time choosing from the menu which one will taste the best.

• Philippines
26 Sep 07
that is good to date your love one. do you go out with your husband only or with your kids? do you have kids already? that is wonderful to compromise your likes and alternate each others favorites. that is a good practice. that is sweet for you and your husband to dine outside at least once in a week.

• Philippines
26 Sep 07
Thanks for the nice words. We do set one day a week and that's usually Sunday to dine out or eat out as the case may be. My husband is really busy with work and there's really not much time that we get together and bond. We only have one child so far, she's only 20 months old and we bring her along with us.

• United States
23 Sep 07
I usually have a general idea of what to order before going into the restaurant. I then look at the menu. I then pick something entirely different than what I wanted the first time. When the waitress shows up to take the order, I usually order what I picked in the first place. LOL We go out to eat probably once or twice a month.

• Belgium
23 Sep 07
What often happen with me in the restaurant is a difficulty to choose food from the menu list. Since me and my husband like to try new restaurant, of course if we come there for the first time, we don't know what's their specialty choice of food for the customer.but since we now have two little children we don't do often going out for dinner. Only sometime we go to have small bite, to the child friendly restaurant.

• Philippines
27 Sep 07
so you have minimize eating outside since the arrival of your two kids. of course, going into a restaurant wherein you do not know their specialty you could not choose what foods to order. so if you did try new restaurants by how long were you deciding on the food choices? by 30 minutes or longer? for now you are going into child friendly restaurants. ok. do you still dine outside with your husband only even just once in two months?

• Canada
23 Sep 07
I generally know what I want before I get to the restaurant. That's actually how we pick which restaurant we're going to go to.

•
23 Sep 07
I think it is more fun to go to resturants without thinking what you are eating. It will be intresting while deciding on going to the resturants. Some resturants have differetn menus as well as their own special dishes. And I like going to the different resturants. It's fun to be really hungry and seeing the menu and ordering. I like to go unprepared while I'm going to resturant but I still I think something in my mind as well.

• United States
23 Sep 07
I'm terrible when it comes to eating out. I always think 'okay, this is what I'll get; I loved it last time, so I'm bound to now', and always end up deciding on getting something totally different. On the last few excursions out, I've read the menu before ordering and been pleasantly surprised with what I've gotten. I'm like you when it comes to mentally totaling everything I want in my head before (I always try to calculate the tip in there, too). I'm just always paranoid I'll have bigger eyes and order more than is necessary. Regarding your question on dining out: I hardly do it now. Having little money makes it quite dificult too these days.

• Finland
23 Sep 07
It depends, normally on my knowledge for the restaurant where I am going to dine. If it's a familiar one and I know well what serves my stomach best yet hurts my pocket worst, I'd decide before I enter it, but sometimes I would try some new dishes too. If I am travelling and don't know anything about the restaurant, then I just enter and order according to the menu, most likely the dishes with a nice name.