What do you think of murals?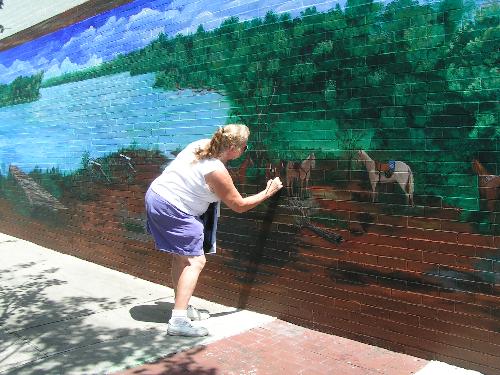 United States
September 22, 2007 9:42pm CST
I attended part of a mural dedication today. A friend of mine painted a huge area on the side of a building with a scene of a river battle fought in this town during the Civil War (US). They had quite a celebration which included several people wearing costumes from that era. This mural was quite a production. It took her several months to complete it and she worked during the hottest part of the year. Our town has 33 murals, now. I am painting a much smaller mural at my church. Have you ever painted a mural? Do you like to see murals on buildings?
4 responses

• Netherlands
23 Sep 07
Hi Susieq223 and I love murals, and especially the once depicting something from the history of the town or the country. ANd I have seen some while they were created while I was living in Italy. I'd love to see the one you are doing right now, and if you do make a photo of it and place it in here I'll be sure to see it :) TheFortunes

• United States
24 Sep 07
If I get mine finished, you can be sure I will post it and brag about it! Thanks for the reply.

• United States
23 Sep 07
I've always found murals to be very fascinating. I don't paint them myself but I do love to look at them. I like any sort of art period. Especially religious art...I just think it's beautiful. That's awesome that your friend can paint something like that and I'm glad there was such a celebration for it.

• United States
24 Sep 07
Me too. She deserved to celebrated for what she did! Thanks for the reply.

• United States
23 Sep 07
wow--that's awesome...don't mind if I have typos here...my kitty has suddenly decided she wants to type too...LOL I would love to see a photo of the mural you painted...can we??? :) I would love to see murals on buildings, the thing is, here in NYC the only murals on buildings is graffiti, and even if there were genuine works of art/murals, can't help thinking some yo-yo would take it in their head to add their "touch" to it--a real downer!

• United States
24 Sep 07
I will certainly post and crow about my mural if I ever finish it! The one that was dedicated is awesome. We have some very good ones in Palatka which getting known in Florida for the murals.

• United States
23 Sep 07
I love murals. I have never painted one before because I don't have the talent. But they are a joy to see. An area in Oklahoma, about 3 hours from where I live, has a long mural on the side of the highway. It was a high traffic place for graffiti, so they had some locals do a mural. It really made a difference, and upped the value of the area.

• United States
24 Sep 07
I have seen that done several places and it does slow down the grafitti. Sad to say it doesn't always stop it though. I don't know how anyone could scribble over a mural, but I have seen it done. Makes me sick! Thanks for the reply.