Pet Memorial

Canada
October 27, 2006 12:23pm CST
Have you ever lost a pet? Post here in memory. Name: Hercules Pet: Teddy Bear Hamster Died: 2002, age 3 and a half I loved Herc, he was too cute! He even won me the science fair (we taught him to run a maze). He had a three story condo and spent most of his time making multiple food stores and shredding up little blankets to make his bed. I found him one morning... he died while running in his wheel.
5 responses

• United States
27 Oct 06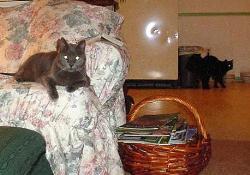 I've had so many cats and loved them all. It's so hard to love a little one that only lives 14 or 15 years and then have to lose them. But that always makes room for more kitty-loves. :-)

• United States
27 Oct 06
I used to have a huge Doberman Pincher, who had no idea that he was either big, or even a dog for that matter. He thought he was a kid, and he thought God put cats on this Earth for him to take care of. He passed away almost 15 years ago, from old age and I still miss him.

• United States
27 Oct 06
My pet was Snookie, a Siamese cat - given to me by my husband for a wedding gift. She lived 17 years on my bed every night and 3 years in a safe warm place in the garage. Allergies got to me and I couldn't part with her. One day, thin, boney, matted, she looked close to passing. I don't know how I did it, but I took her to have her put to sleep. I brought her home in a blanket and set her into a grave behind the cedar tree in our backyard. My husband bought a marble marker to mare her life. Here lies Snookie 1981-2001. We have moved three times since and keep her marker in our yard. Plus, we put her decoration on the tree each Christmas. Some pets just hold that special place forever.

• United States
27 Oct 06
Suzie Q-Bert Smith Lived for 16 wonderful years. You where my first pet and I loved you very much.

• Janesville, Wisconsin
30 Dec 06
LilOnes: 300 some Cats and Kittens. That grew up with me. Since age 6. I loved and cherished tham all. And my 2 Dogs Molly, and Petey... I love all of them, They are Kitty Ancestors, and Guardians in Spirit. My Babies forever...... To many names to list here. my Doggy Ancestors too. - DNatureofDTrain