New Product Review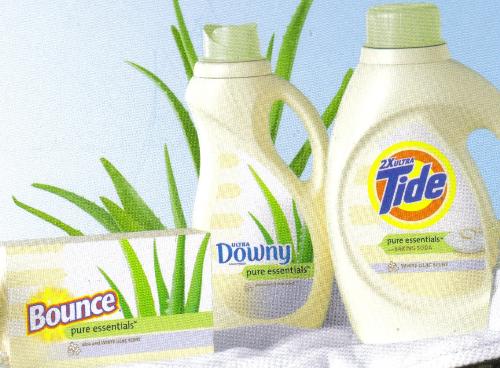 Turkmenistan
September 24, 2007 2:02am CST
I do the free sample thing religiously. I always have a free sample coming in from somewhere. I especially like the scents. I get perfume samples, lotion samples, and detergent samples. Because of my allergies and asthma, I have a very sensitive nose. I am also obsessed with things that make me and my environment smell good. So, when I got the free samples for the new Tide, Bounce, and Downey, Pure essentials fragance, I rushed right out and washed a load to try it out. Although, the smell is nice, I was a bit disappointed. To me, it smelled more like something that you would try to wash out of your clothes and not into them. It got my clothes clean enough. It just seemed more like a light perfume scent, than a detergent scent. Has anyone else tried this kind and if so, how do you feel about it?
6 responses

• United States
25 Sep 07
I haven't tried any of the new scents yet, but my mom doesn't care for some of those new 'natural' scents either. I can't remember which one she tried. Which is the one in the new cream colored jug? It was that one anyway. I'm all about some free samples though. I love getting samples of stuff in the mail. I sell Mary Kay and instead of buying full-size products, I just use the samples. ha ha. Shhhh....don't tell.:P

• United States
25 Sep 07
I also like to get samples so that I can try new products. I tried this same sample you are referring to and found the same issue. Actually I had two samples to use. I got the first small sample in the mail. Before I had a chance to try it my sister offered me a full bottle of the liquid. She had purchased it at full price but after using it once she refused to continue to use it. The Pure Essentials smell remained too strong on the clothing and her husband or children were unhappy. I used it because, heck, I'll use anything that is free but I do not plan to ever purchase it again. The smell would probably be nice on sheets and towels but it is not something we prefer on our clothing.

• Turkmenistan
25 Sep 07
I agree with you on that. Free is fine, but I would never pay for it. I think that the detergent world is going through a fragrance war right now. Or maybe it is the companies themselves, like Protor and Gamble. Never in my life have I seen so many new products on the market at one time. I think one of the ones that is a new fragrance for them is lavender. But, lavender does not always go over well. I purchased some Pampers diaper wipes once, with that lavender smell. I promise you, if I never smell those things again, it will be too soon. Oh my goodness. And I did not want to throw them away, I had spent too much money. So, I had to use them until they were gone, gggggrrrrr.

• United States
24 Sep 07
I haven't gotten that one yet. I am also a free sample person. I have found some that I really want to stay away from and some that I go right out and buy. It is nice to know that I don't have to waste my money to find I don't like something.

• Turkmenistan
24 Sep 07
The free samples really help a lot. When I go shopping, I do not want to spend a lot of time debating over a new product, so I will choose tried and true and keep going. With the free samples, most of the time you get a coupon. So, not only do you get a free sneak peek, you also get a few cent off on your first purchase, which is wonderful. It's a win, win, situation for the manufacturer and the customer.

• United States
25 Sep 07
I haven't tried that particular product but I do like getting free samples in the mail. I often try the shampoos or hand creams but have yet to try any washing powders.

• United States
25 Sep 07
I havent tried that yet.Far as the free samples i love them.Anything free I am up on it!!