yahoo web messenger

7 responses


• Finland
28 Sep 07
I LOVE it 'coz I use yahoo mail, too, and YM would let me know when new mails come, so I don't have to keep on checking it up and the finding out that there's no new mail he he he he... I also love it 'coz most of my closest friends use it. Now that I live far away from them, it's VERY VERY useful. ;-D I also love it 'coz I can listen to lots of songs at Yahoo Music Launch Cast. SPLENDID Plug-in! ;-D


• Indonesia
1 Jun 08
I love yahoo messenger. I use it to chat with my brother at another city i live. It is cheaper than have to call by phone.

• Philippines
12 Mar 08
Yahoo web messenger allows us to chat with our friends in the absence of yahoo messenger. I use it when I can't log in to yahoo messenger and it's good enough actually. It even shows your offline messages. The only thing is that you can't use webcam, audibles, and voice chat. But I like it.

• Philippines
4 Jan 08
Yes, I am using a yahoo web messenger. It is better than MSN. For me, I will choose Yahoo Messenger because Yahoo messenger have a lot of good features rather than MSN. It is more user friendly messenger and a lot of people using it. And all of my friend using it. And you can share all about the stuff you want when you are using Yahoo Messenger.

•
27 Sep 07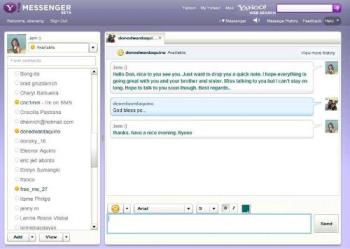 Yahoo web messenger is a great help especially if you're using an internet in the library where you can't download a messenger. Yahoo web messenger comes in handy because you don't have to download it. Also you can chat from your mailbox if you are using a beta version. However, it does not have all the cool features as YM does like webcam, audibles, IMV and the likes.