Did you watch twenty20 world cup final?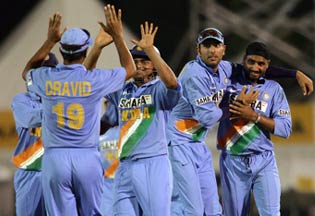 India
8 responses

• India
7 Nov 07
yes i watched the match right form the beginning till the very end where the indians had the celebration. it was an exciting match and at one moment i even thought that indians definitely lost the match, but thanks to the sreesanth catch which brought the trophy to the Indians. i have never seen such a cricket match for a long time. infact all the matches played by india in this tournament was excellent. Great tournament, great semifinal, great final and most importantly the most deserving team won the cup.

• India
7 Nov 07
yes i did the match was owsome it was unbelievable i still sometimes think that did it really happened he he ya you are right even i saw the whole match without blinking my eye you know its a scintifically proved fact that we blink our eyes its a requirement and women blink twice their eyes them man but i saw this match with my friend and no body blinked eye for even a single time indian team even proved the science wqrong he he

• India
26 Sep 07
ya i did , really it was a close one n a terrific one 2

• India
26 Sep 07
yes i am also watched the twenty20 final .It is highly a breathtaking moment for me. I did not blink my eyes during final moment.Thanks for pakistan batsman Mishab for making the match more Thrilling!!!.I am also conratulate MS Dhoni for making quick decision and being so cool.It will be as best ever match in my memory for long time

• Pakistan
26 Sep 07
Yes! the match was exciting from begining to end. Both were the unexpected finalist although both team's fan were wishing to see them and it was even golden moment to see both arch rivals together in final. Both played well but the main deficiency in Pakistan team was that their batsmen lacked the coordination and concentration which made them to lose to India! congrats India.

• India
25 Sep 07
Watched it. Loved it. Still can't believe it. What a heart stopping game, right down to the wire. TEAM INDIA on top of the world. We still remember the 1983 world cup victory but this, i am sure is a very special one too. West Indies became the first team to win a world cup. India the first team to become the 20-20 world champions. CHAKDE INDIA

• India
24 Sep 07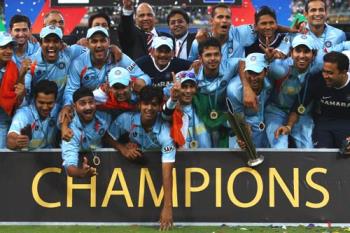 Who would have missed it. Anyone who missed it then that person missed a chance of a lifetime, missed watching a new era being unfolded. It was a breath-taking experience and a dream come true for all Indian Team supporters and lovers. I couldn't get off my seat and i was glued to the TV, Pakistan gave a scare for a while but Indian Team held their nerve to become World Champions after 24 years. Its truly amazing and wonderful really, we all love this Team for acheiving the highest prize in Cricket..... Congratulation !!