Dealing with Loss

United States
September 24, 2007 8:31pm CST
I lost my father in June to a brief yet extremly painful battle with bone cancer. I was always a daddys girl, and this has been such a trying time for me. He started having hip pain right after christmas 2006, and went to a local charity hospital who told him nothing was wrong with him, all the while he was getting worse. In March my mother and I took him to another hospital where he was diagnosed with bone cancer. They told us then that there was little that could be done. Just to enjoy what time we had left with him. Which the doctors said would be anywher from 3-6 months. Even though we all knew it was coming, when he passed away on the 8th of June, it was still a very crushing blow. I don't think there is ever really a way to prepare for something like this mentally or emotionally. But my daddy did make it a little easier on all of us. He signed a DNR so that neither his wife or 5 kids would have to make a life ending decision. He also took his funeral proceedings into his own hands, and requested no funeral be held. He did these things, knowing he was dying, but even then he was still thinking about how it would all affect us. As a parent, I don't know if I could have the courage to do the same for my children. Do any of you?
5 responses

• United States
25 Sep 07
First, I'd like to offer my condolences. It's so hard to lose a parent, especially when you were close to them. I think it's great that your dad did everything he could to make it easier on his loved ones. That couldn't have been easy with what he was going through. I lost my dad 18 years ago due to the sudden onset of Jakob-Creutzfeldt disease (also known as mad cow disease). He didn't have time to prepare for anything before it took it's toll. I recently lost my mom (February 2007), that was bigger loss to me, we were so much closer. She had battled heart disease for the last 9 years, and it was a tough battle and she fought hard. She didn't want us to worry about anything either. She had contacted Emory University School of Medicine to donate her body to the medical school for research. When she passed away, it was a little strange, we didn't know what to do, simply because there wasn't much to do, she had already sold her house 2 years prior, so all there was to do was contact Emory, close her checking account and hold a memorial service. She was living with my sister, so there was only one room of her things to go through also. My husband and I have also arranged to donate our bodies to the medical school, so that should make it a little easier on our children. So the rest should be fairly easy.

• United States
26 Sep 07
My dad was always one who thought of everyone else before he thought of himself. He also taught me to be the same way, I only hope I can have the courage to face my own mortality and make all the necessary arrangements so that my own daughters won't have the added burden

• Australia
25 Sep 07
Wow, I have to say I admire your father a lot with what you described about your father here. He was so thoughtful. This is a good lesson for us as well. I'm sure you are proud of him a lot. With all my sympathy to you. Accept the truth and Think positive that is the only way to deal with Loss. Your father passed away like every human, you should happy for him because he is no longer suffer of the sickness. And he did all the good things for his family before he gone, it will be unforgettable memory about him. I'm sure he will be around to protect your family! Just think of him he will be there for you!

• United States
26 Sep 07
You are right it is a good lesson for us all. The main lesson I learned is to never take anyone you love for granted. They can be goe in the blink of an eye

• United States
15 Nov 07
Jennwhite, My condolences to you at this time. I lost my father to Prostrate Cancer and Parkinson's just this past May, and like you, we did our best (our meaning my mom mostly and myself when needed along with Hospice)to keep him at home and in good spirits and good health. To be honest, he was down sick for the past two years, and towards the end, I only really knew he was actively dying until like three days before he actually did it. He was a part of our lives and I didn't even notice that he stopped eating and wouldn't say much until the friday night after they declared he was actively dying. We didn't feel bad too much because for one, we felt we gave him the best that he needed and he didn't go into no nursing home as well so for that I am truly grateful. I feel as a mother, I pray if I get into a situation with life support and all that, I will tell my kids, pull the plug if it gets too expensive, or period. The unknown frightens me to a point, but I feel if the good Lord is with me in all things, he is also with me then too. Not to ramble on here, but just my thoughts. Peace and may you have some comfort at this time. To be honest I had three deaths this year. My aunt and dad was six weeks apart, then in August, I lost my former mother in law and that hurt too because she was a good woman through and through and I kind of stayed away after my ex and I divorced so I deal with that too.

• India
25 Sep 07
Jennwhite.. O! i really feel sorry for the loss you experience.. I feel the pulse of you as how, deeply you would have loved your father.. Also,you must be proud to be a daughter of such a dutiful daddy who always lived and thought for the welfare of his children.. To comment more on this will kindle more of your dying sorrow.. Time the curator, will bring you back to normalcy..jennwhite, till then no respite.. Come do a lot of mylotting.. share your feelings with us.. make a lot of friends.. Develop a sense of true friendship with them and have contacts through mails, chats, p.m through mylot..and we are here waiting to help who are really in distress..

• United States
25 Sep 07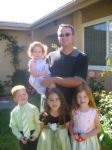 I am so sorry for your loss. I lost my Dad 18 years ago and it seems like yesterday to me. I was also a Daddy's girl and took it much worse than my siblings. He did the same as your father and took care of everything before hand to make it easier on my mother which it did. If it were me I don't know what I would do in this situation. I'm 60 and worry about all of these things now and think I should be doing something but it's hard to think about actually doing them.