Doggie Cake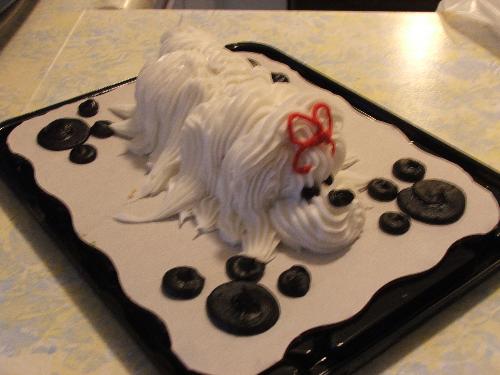 United States
September 25, 2007 8:21am CST
My mom came over the other night, and brought me a little present. I just wanted to share it with all the dog lovers out there. I thought it was the cutest thing!! My mom actually got this at Walmart. It was only thre bucks! Underneath all that decoration was actually two cupcakes!! Anyhow, just thought it was supercute. I had a hard time getting myself to eat it because I thought it was tooooo cute to eat!
7 responses

• United States
25 Sep 07
thats too cute,i will have to check that out here and get one for my mom for her dog.very good idea.





• United States
19 Feb 08
Oh my goodness, how cute! You said it was made from two cupcakes, so was the whole thing just the dog itself? It looks like its on a mat or rug of some sort; is that yours or part of the cake?

• United States
19 Feb 08
Yes, most of it was frosting...and then two biug cupcakes underneath all the frosting! The mat came with it, it was some sort of cardboard thing, but it was waxy, so mothing would stick I guess.

• United States
30 Oct 07
That is super cute. Thanks for sharing it with us! My mom works for Hallmark inside a Wal-Mart store, so she often brings me cute little presents she finds for me. Aren't moms great?