If You were Given 5 minutes of World Wide Air Time?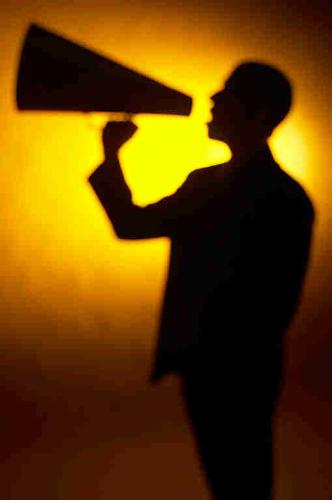 United States
September 25, 2007 11:33am CST
If you were given 5 minutes of world wide air time, and you knew the earths populations would hear your voice and your message what would you say? What point would be so important to you that you could stress the significance to your world wide audience?
4 responses

• Pakistan
26 Sep 07
Hello Angelwhispers!:-) That's quite interesting, really! And I won't like to waste any time, so here I go… Greetings Earthlings! I speak to you as a son, a father, a brother, (and a husband, my partner is also part of the family:-)). I speak to you as a member of the global family that we are. It doesn't matter whether we were created by GOD or we came into being through Big Bang and evolutionary process, the fact is, we have common ancestors, one way or the other, and thus we are all related. We have so much in common, yet we are so divided. We focus on the minor differences and ignore the major similarities. Difference in race, country, color, language, culture and even age and gender is to distinguish not to discriminate. In fact, they are distinctions without differences. They are not to boast of superiority of one over the other, they are what they are, distinguishing factors just for recognition, not for racism and division. My dear fellow family member! I am saddened and disheartened by the state of affairs that we have relegated ourselves to. We are cutting throats of our own brothers, stealing what doesn't belong to us, hating our own blood, dishonoring our own siblings and family members, claiming superiority over our own relatives, stepping on our brothers' heads to claim ourselves a higher head, engaging ourselves in cheap squabbles, looting property of each other, making fun of others' problems and doing whatever it takes to gain more power, wealth, fame, superiority, fake pride and resources in a way, not fitting for us, in a way which doesn't belong to us and which is not just, wise, intelligent and humane. By doing this, we are causing harm to none but to ourselves, by losing human love, grace, dignity and honor. My beloved, O my people! Come together for what you are. You are like a single body, like a body has different parts yet it is one, you are different parts of a single whole. A body isn't complete even if a single part is missing. A handicap body isn't as complete, efficient, optimistic and performing as a whole body is, so do not amputate your parts! Do not cut each other. Whole body feels pain when even an inch of it is injured, cut, burnt or wounded. Feel each others pain and sympathize, for, none has lost other than yourself. We can do better if we are united and we will all lose, eventually, if we fall apart. Embrace each other, O humans! O bearers of wisdom and knowledge! O beautiful creatures get together! We have great challenges, coming together is itself a challenge, let's take each other along! If we continue to increase the gulf between the rich and the poor, the knowledgeable and the ignorant, the White and the Black, the old and the young, the employer and the employee, the ruler and the ruled, the common and the elite and the head and the feet, we will end up like stretching a human body to an extent that our joints and muscles will no more be able to hold us together, we will rip ourselves apart, we will bleed and eventually die, leaving behind all that was for us, to share, to enjoy and to cherish together! Let's not, O my family! spoil the earth, this universe, our home that we all live in. Let's not make our home dirty, let's not destroy it to the end that it is no more livable. Let's build it and not destroy it. Let's paint it's walls, let's keep it organized, let's use it properly and intelligently. Let's other say that we inhabited this home and kept it working! Let's make our home beautiful and let's make our family lovely!:-) My megaphone is switched off:-(

• United States
26 Sep 07
Kamran, this is a very poignant and beautiful speech. If only we could gather together like minded people and let this reverberate thought out the world. Thank you so much for taking the time and sharing with us you thoughts. As always I respect and appreciate your words.

• United States
29 Sep 07
Rotflmao :)) I suppose it does. I tend to like authors that have a rather big ego.


• United States
1 Oct 07
That wouldn't be enough time for me. I'd at least talk on stateside government corruption, failing government systems like education, the utter failure society is becoming, stateside's backwards priorities (i.e. celebs, sports, excessive materialism is above things like raising good children, education and others) I could go on, but I'm not feeling the steam angel. I'll post a sample or two of what I say http://www.mylot.com/w/discussions/1286875.aspx http://www.mylot.com/w/discussions/1291421.aspx

• United States
1 Oct 07
Progamer, those discussions were quite interesting I just spent a good hour reading. I found myself quite hot under the collar. Like you however I am tired tonight and I do not have the energy enough to start my own response. I shall tomorrow. Thank you for sharing these discussions I missed them when they came around. This is a very important issue as it pertains to our greatest asset and resource for the future, Our Children!

• United States
30 Sep 07
I would say that the only important thing in life is to get to know God and that God is very accepting and understanding of everyone. Anyone can get into heaven, even the foulest and most diabolical person who ever walked the Earth can go there as long as that person genuinely allows himself to be saved. God knows why you are the way you are and why you did what you did. You are like a little child to Him and he loves you very much and will do whatever he can to give you eternal life. He sent a representative in human form, the one we call Jesus to show us the way and to bridge the gap that none of us will ever be able to fill on our own. That's what I would say. Now, I know a lot of people will want to give me a negative rating, or challenge my beliefs, but this is an honest answer to your question.

• United States
30 Sep 07
No Challenge or negative ratings here are allowed Darlene. This Discussion was written with the intent of seeing and reading what ever opinions each individual has. I laid a soap box down and gave a microphone to all of you. It is a chance to say what ever you wanted to, to the world. There is no right or wrong view point. I value your opinion as much as I do any of my friends and I so appreciate your honest, candid reply. In fact I quite agree with you. Thank you my friend.

• United States
1 Oct 07
Thanks! I know that some people find some of my spiritual views unconventional sometimes and have marked me with a negative rating, though they won't tell me who they are. Thank you for valuing my opinion.

• Richards Bay, South Africa
26 Sep 07
Angel... when I saw this discussion I postponed responding, and went straight to one of my friends who is no longer that active here anymore, he is now, you know where, He has a beautiful mind and I asked him to give me his opinion and I would love to share it with you. Please put this in your blog on the other side so we can share it with them. I think this is a brilliant discussion. Sorry about me carrying on reffering to the other side but you know how these sites feel about mentioning the other. As for myself I would give a lengthy speech about animal abuse and not a soul will listen or pay attention. Here is what my dear friend has to say about this. He is known as Jumpinjack here at MyLot and as James on the other side. I was about to shut down a few minutes ago and I saw New Messages. I simply couldn't resist. Intriguing. Five minutes of world wide air time. I would tell them the following. The world is a beautiful place. Full of glorious natural wonders. Overrun by all kinds of magnificent creatures great and small. A planet with unlimited mysteries waiting to be discovered. A place bountiful with every shape and color of food under the Sun. Full of peace and harmony. What a splendid time that "was." Then mankind entered the picture with his upright posture and capacity for reason. His manual dexterity to build and his capability to communication. Indeed said man. "This is my home and I will make it a grand place to inhabit. I will surely improve upon what there is and i shall invent what there isn't." Time has passed since I arrived. 5,000 years or so. It has been one blink of an eye. Before I closed my eyes to blink they sparkled as I looked upon my home. Once I opened them from my blink they became weary and teared up for what I now see before me. My land is barren and my food isn't enough to go around. My home is polluted in so many ways. So too for that matter is my body. Those creatures great and small that I saw on my arrival are gone or are going. The peace and harmony I witnessed has turned to hatred and distrust. My Brothers and Sisters are killing each other. When are we going to realize that we are one. What we do to another we ultimately do to ourselves and our world. And to think I thought we were going to improve upon what we had. Do what you will with this Annie. I honestly don't think anything can be said to people today. It seems to me we are too absorbed in our own existence than we are to care about the grand picture. James

• United States
26 Sep 07
Anne, I posted the blog first thing this morning. I would indeed be honored if You have your friend James look me up in the (dark side) as jimbo so calls it. I read this while I was checking my emails and having coffee this morning before I started my day. It stung my eyes with tears as it is so heartfelt and true. "And to think I thought we were going to improve upon what we had." So unbelievable sad, the honesty hurts. Thank you so much for sharing this, and thank you JumpinJack.