Cell Phone radiation. Dangerous for your brain... Really?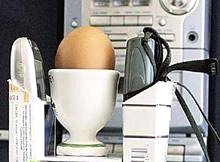 Indonesia
September 26, 2007 11:53pm CST
I got an email concerning the radiation of cell phone to our health, especially our brain. One experiment with an egg is when 2 cell phones are active at the same time. Egg between those 2 cell phones boiled after 1 hour. Don't know whether it's true or not. What is your experience using your cell phone? Do you feel such symptoms happen to your health? Looking at the effect, do you concern with the use of cell phone?Please share.... Thanks.
3 responses

• India
27 Sep 07
I too have read many articles with relavant to cell phone radiation affecting brain.Its difficult to give up the usage of cellphone but certainly its usage can be restricted. As of now i dont find any health hazard due to use of cellphones but i make sure i restrict using cellphones..

• Indonesia
27 Sep 07
Imagine the world without cell phones. I think it has become the primary needs, do you think? Try to avoid this my friend, as I've been warned also : "Don't put your cell phone (standby mode) beside your pillow when you sleep." I'll go to look for a handsfree after this. :) Better take precaution, right? :) Thanks subathra. Your response has been rated +++.

• India
27 Sep 07
I don't know about the egg. But cell phone radiation surely effects our brain. 10 Years ago there were a lot of sparrows in our city and now you cant find even 1 of them. Its all because of cell phone radiations and towers in the city. I am having migraine since i started using cellphone.

• China
20 Oct 07
I agree with you completely that cell phone radiation is bad to our brain. I have experienced it many times when I am on the cell phone for a long time and many times. So I am trying not to make so many calls if possible.