Dinner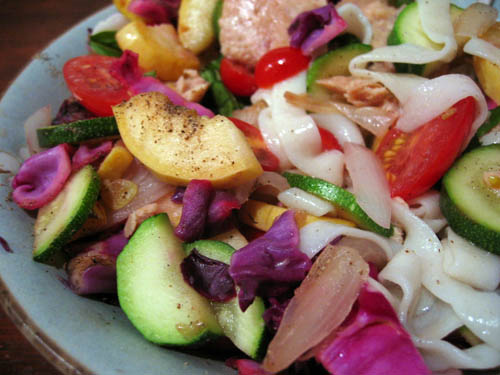 United States
9 responses

• United States
27 Sep 07
We usually do the Rachael Ray thing. My hubby & I often make dinner together, so it goes faster.

• India
27 Sep 07
Well preparing dinner is my hobby and I take lots of times while preparing as I like to make different dishes by reading from receipe books.. but when I ma in hurry; then I rarely make dishes..but my fastest speed of making a good dinner is around 45 mins.

• United States
27 Sep 07
I have lots of meals I like to prepare that take forever, but I finally got to cut them down a bit.

• United States
27 Sep 07
I like to cook, but spend 2 hours in the kitchen is wasting time for me, when I can cook the same delicious food in half hour.So yeah I cook 30 mintues meal and evrybody likes them.I am glad I can work like that, becuase one time when i will have a family and job, it won't be time for me cooking so long.

• United States
27 Sep 07
I love to cook too, and I agree, spending too much time is wasting time.

• United States
27 Sep 07
This varies a lot with me. I try to make good nutritious meals with meat vegetables and bread. If I cook in the crockpot I will cook something all day whereas if I cook something that is prepackaged(usually from the freezer) it will take only a few minutes. That is my main courses. It doesn't take much time to fix my breads and veggies, and mostly I can get them done while my main dish is cooking.

• United States
27 Sep 07
I agree that it can vary. Some things are easier to make than others.


• United States
27 Sep 07
Haha yeah. I try to keep the meals short too.

• Belgium
29 Sep 07
It really depend on what kind of food that I will cook. The longest time for me to prepare our dinner is about three hours, that's when I will serve Asian beef curry which need longer time to make the beef well cooked. But sometimes 30 minutes cooking is also fine for me, and it will still serve nice food on the table.

• China
27 Sep 07
Sometimes I cook, but nowadays I don't cook as the exhausting fan in my kitchen is broken making funny noise. I buy my meals at school canteen and it is convenient and it won't take me long to finish each meal. I plan to get a new kitchen fan during my days off so that my wife can enjoy cooking in the kitchen when she comes to stay with me for my seven-day holiday. hehe

• India
27 Sep 07
hi, i cook, so i guess i can take part in this discussion, thought this somehow seems to be a girls discussion, lol. anyways, i love to cook and when i was living in bombay for years, i would cook a cook meal like within 30 mins and when i knew friends were coming i could go on cooking for hours. i guess its always wonderful to cook for others somehow and we should make it more or atleast that much interesting when we are cooking for our selves. we should make it wonderful for ourselves. smiles, apple.