Birthday Ideas..

United States
5 responses

• India
1 Oct 07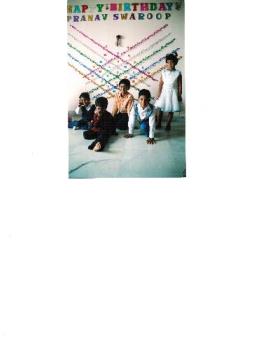 I had an alphabet party for my son when he was 4. He loved it. Decorations - I made huge alphabets out of old newspaper and painted them. Used it on the path leading to the front door. I'm sure you can buy these. My son loved helping me cut the alphabets out. I also stuck alphabets on the door and all over the place inside the house. I bought plain silver party caps and stuck the first alphabet of each child's name on each cap. Cake - I had a rectangular cake with all the alphabets around it as icing and Happy Birthday in the centre. You can also bake a cake with the first alphabet of your child's name. Food - you can get all the alphabet snacks. Games - We had throwing the alphabet into the bucket (used magnetic alphbets), pinning the stroke on Q(similar to pinning the Donkey's tail),musical alphabets (similar to musical chairs but instead of chairs, I made alphabet printouts on big paper plates and the children had to stand on those) Goodie bags- had a scrap book with each alphabet on a page (kids could stick pictures starting with that alphabet on each page),alphabet stickers...they loved the party cap (with their personal alphabets on each) Hope it gives you an idea

• India
3 Nov 07
It's easy too if you start making the decorations now. My friends and I sat and cut out old newspapers in the shape of huge alphabets and used poster paint to paint them (could be used on the driveway or path). We also took a huge sheet of chart paper on which we just traced out random alphabets at random angles (kind of like modern art) and stuck it on the main door. We had alphabets all over the place and didn't have to spend any money on those.

• United States
29 Sep 07
Give each of the guests a small party bag. It can have a theme like disney or looney tunes or it can be random like candies, chocolates, little whistles, blowers (all are real cheap in ratio). For games, you can have them play twister, bean bag toss, an easter egg/goodies hunt, maybe tug of war or hula hoops.

• United States
29 Sep 07
Can you clarify? Are you looking for party theme ideas or gift ideas? If you are willing to have a small party for a few friends at home it can be done inexpensively and the kids will have tons of fun. My daughter has a birthday in January. One year we did a tropical theme. We gave out plastic leis when the girls arrived, played a ring toss game I picked up at the dollar store, drank tropical punch kool-aid and did other themed activities. Sites like Familyfun.com have great craft ideas. We also did a Mardi Gras theme one year and let the kids decorate their own masks that I picked up cheaply at the craft store. I hope this helps. If you can give more information about her likes it will be easier to offer some advice.

• United States
29 Sep 07
My sons just had their parties a month ago, (I have a 1 year old and a 3 year old) but it was nice so we did an outdoor water party. I'm not sure where you live, but if it's in the states, it will most likely be too cold for an outdoor water party. YOu could however, see how much it would be at the local college (if you have one) or ymca to rent the pool for an hour. Otherwise, if you want to stay home, you could have an art party, have everyone wear an apron, and set up painting stations, and craft stations. You could have a dress up party, if she has a lot of friends, each kid could come dressed up as a prince or princess, and they could play "princess" games. If there is sure to be snow, have a sledding party, with hot chocolate and mini marshmallows. It really depends on how many children there will be, and where you will have it. Local gymnastic places usually have party rooms available and allow you acess to their equipment for an hour or so. Good luck.