Do You Close To Your Mother Or Father?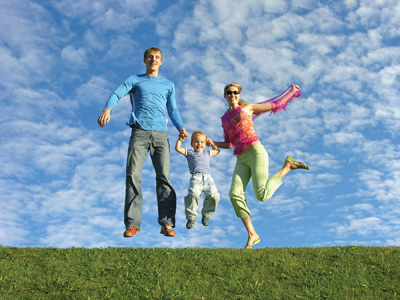 Pakistan
September 28, 2007 10:51pm CST
to whom with close you are wqith your father or with your mother. i am close with m mother and according to me i think the girls most like their father and boys mostly like their mothers. i want to kinw that from my friend who are girls and boys well that is true that we love both of them and we never like to live with just mother or father because a super family builds when both are available. i wnat to know frm girls that why they are so close to their father in my closeness to my mother is that she always care about me she konw the best thing in me and give me idea to make it more nicely she never excuse me in mattere of cooking cloth washing and pressing. she is the personality that i most respect in this world well i am wating for your comments on that that what is your opinion on that
10 responses

• United States
29 Sep 07
From a purely psycholgoical, Freudian perspective, males will tend to bond with their mothers (at the extreme would be a "momma's boy") and females with their fathers (at the very extreme "daddy's little girl"). Freud himself had a strong relationship with his daugther, who stayed with him his entire life and never married (because Freud said that no one was good enough for his little girl). I, as a guy, am closer to my mother, simply because she's been there all the time for me. My dad's home and all, but never really cared much.

• United States
30 Sep 07
In some cases father and daughters do get along great but for the most part I think all kids bond better with mothers then they do do fathers as fathers distance themselves quite easily,and mothers are right there when you need them.Have a great day.

• United States
30 Sep 07
That's a very June Cleavers mentality. With societal neutrality, parent's role (age old ideas of men being the breadwinners and women the homemakers) is less defined; I don't really think women are the primary source of comfort for children anymore. There are plenty of stay-at-home dads who care for the children. It's a blend of both.

• India
29 Sep 07
I love my parents but I am close to my mother.I used to discuss all my problems with her and I know only she can give me best advice.Its not that I don't take advices from my father,but for general problems or confusion,I prefer my mom's advice. -AV

• Philippines
29 Sep 07
i am close to my father because he gave me all my wants and needs. he spoiled me a lot but i love my mother too.

• Belgium
29 Sep 07
Hi there, I think I'm more closer to my mother. Even I know and feel my father always give more attention to me compare to the other kids, since I'm the only girl in the family. But basically I love them both and equal.

• Australia
29 Sep 07
For me im not really close to either my mum or dad, however i know both of them would die for me or so to say. mum has this annoying nagging that she does that sends me nuts sometimes, and dad is abit on the strict side. I know they are well intentioned but when it comes down to it i love my parents.

• China
29 Sep 07
i am closed to my mother. my dad is more serious than my mom, but i dont' fear him, and i don't like to talk with him. i haven't seen my dad until i was 3 years old. then i saw him several times before 5 years old. he worked in other city which is far away from my city. and my mom had to work everyday, and looked after my grandfather and my younger brother and i. so i respect my mom very much. in my heart, she is a great woman. my mom is a open-mind person, so i like to chat with her about everything happened in my life.

• United States
29 Sep 07
I love my parents but i am more close to my mom. I am youngest and sometimes my mom sometimes treat me like a baby. I always tell all my problems to her especially about relationships.

• China
30 Sep 07
many friends think i close my mother ,i think so myself ,but i respect my father much more,my father can face and deal with difficulty

• China
30 Sep 07
I'm closer with my Mom, although many others told me the same as Furqanoops said. I think it's depending on the family surrounding. My parents are from different city. After wedding, my Dad followed my mom. So I seldom contact with relatives from Dad's family. But I know my Dad is love me so much. And many people say my Dad spoil me. Of course, I love both my Dad and Mom.

• United States
30 Sep 07
I am closer to my mother then my father I love him because he ismy dad but he abused me in many bad ways as a child so I am a mommy girl.I love her and the wisdom she imparts is great I only hope I am a good as mom as her.Have a great day.