is Miller(scofield) really a gay? who can tell me?

China
8 responses

• Romania
30 Sep 07
now I can't understand why is that relevant... I know he is a nice looking actor... but that gay problem is just stupid... and that is his own business... cos there is a part of people's life that is called "PRIVATE LIFE"... so just enjoy the show, cos is great... and beside that the 3rd season just started:)

• China
30 Sep 07
yeah, it's his private life. but since the TV show has so many fans,actors behaviors will hold their influence. then it becomes a pulbic issue. being a gay is not a big deal. if true, i will accept it because he is my hero. still, i want my hero to be a perfect guy. it is just personal emotion. support him, prison break and the united states

• China
30 Sep 07
Don't believe rumor reported by the irresponsibe media. Althought I don't care whether he is a gay or not,I don't belive he is a gay. Remember the most pleasant expression in his eyes when he looks at sara when he is in the infirmary of foxriver. It's soulful eyes. If he is a gay, I think he can't play so well. So forget it.

• China
30 Sep 07
you are right. his expression in the eyes is charming and tells a lot about love

• Philippines
1 Oct 07
Maybe its a publicity...whether good or bad...its publicity! Is it a curse when you have good looks, talented and you are becoming famous? You will always be ICONed as GAY.... What a trend!!! this trend sucks. I wanted to comment on that, if two guy, hanged out together and acted closely does it follow they are gay? What if the other guy is just a close friend? or a brother or cousin....rumors are always rumor...i would only say that he is gay when they caught them doing a homosexual intercouse in action...but this thing...its only a hearsay! He is my hero too....and if ever he really is gay...So WHAT? it will not affect me so much...i would admire him more. For doing such a great series.


• Malaysia
30 Sep 07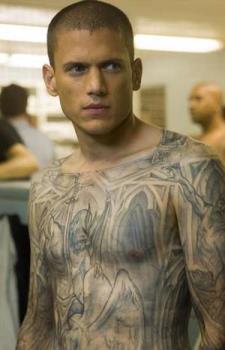 my friend told me this story about wentworth miller too. i was shocked! why oh why is he like that? lol. but i'm not sure if it's true or not? but it doesn't matter, i still think that he's really cute!^___^

• Venezuela
29 Sep 07
haha well no one can tell you if he's g4y or not, I saw some pictures with another guy and he looked very happy xD. Btw he is a great actor

• Australia
29 Sep 07
Hi Serendipity! Yeah, I also read that news in the gossip magazines. But, why bother about it? As long as he is a good actor, and keep acting on Prison Break, that will do. :)