do like to walk or hike (as a form of exercise)?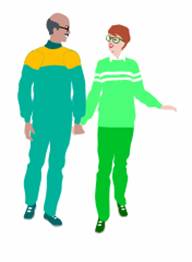 Philippines
6 responses

• United States
30 Sep 07
I like walking. Not only is it easy for most people to do, but it is convenient and doesn't require any specific equipment or anything. Although I do have a pedometer which I like to wear for extra motivation.

• Philippines
30 Sep 07
hi... i have a friend who got hooked in using a pedometer..he tries to have atleast 5000 steps, a day... how about you?

• United States
18 Oct 07
I tried to get to 10,000 a day, but lately I have been slacking and I haven't been wearing my pedometer. It is so crazy because the pedometer is a shocker, you think you walk more than you actually do.

• Philippines
30 Sep 07
Hello shiloh_222, I prefer walking as a form of exercise. I do walk for about 45 minute to an hour everyday around the place where I lived in the afternoon when the sun's setting down. Sometimes when I am out during the day I would walk going to the malls and shops that are not so far from where I live rather than take a ride in a car. I like walking and in our place during the day when the streets are bsuy its much faster to get to your destination by walking than taking a ride because of heavy traffics. I also like hiking but I seldom gets the opportunity to do so. The last time I did was a couple of years ago with my friend in a mountain in their province which is about six hour from the city. I like the fresh clean air and beautiful view of nature in the mountain side. It was fun and I enjoyed it a lot. :-)

• Philippines
30 Sep 07
hi... thanks for responding. i agree that nature hiking is one of the best for mo relaxation out there... which one do you prefer (if your schedule allows it), morning or late afternoon walks?

• Philippines
17 Oct 07
When we talk about the more convenient way of exercising, then walking is much preferred. But for those who can afford hiking in the mountain, then it is nice too. However, since I am not that kind of adventurer, then I prefer to walk as my conventional exercise. I do walk for at least 30 minutes, and I jogged at the same time. Hiking is very nice, as you will be able to see the beauty of the world when you are on top of the mountain. How I wish I could climb the Mt. Everest. LOL. Have a nice day and God speed!


• Philippines
30 Sep 07
hi thanks for responding... where do you usually walk? and who's company do you prefer? i love walking but most my friends don't like it so i do it alone...

• United States
30 Sep 07
I used to go and walk everyday with my roommate around the condos we lived, but now I moved to another city... I do not walk like everyday at the same time like I used to, but I try to walk as much as I can, like on campus, or go shopping... try to walk the walking distances in my day, I have noticed that here in US almost nobody walk, they take the car to go everywhere...even if it is 2 blocks away. It is nice to walk in a park... sometimes I just go to thw gym and walk in a tredmill meanwhile I watch the news...

• Philippines
17 Oct 07
you seem to be pretty active terry. how is your form now? bellydancing and walking like that. i would really want to lose some weight. any tips?:-)


• Philippines
17 Oct 07
i take a walk. more relaxing, especially if it is done at night. :-) i like the cool breeze, lightens my mood. nice discussion shiloh, and i like the way you encourage people to participate by saying "i am interested to hear from you." :-) bless you!

• India
1 Oct 07
hello shiloh_222, i haven't experienced what hiking is actually,unless from those in television shows.i have never done that myself.so i will certainly opt for walking which i do regularly.and i love doing it especially when my partner is along with me.it just increases the charm and makes it more enjoyable. walking is a great form of excercise and the simplest also.i always go for a walk in the evening atleast for an hour.besides i always like to walk out short distances if my vehicle is not that much necessary.if i am not late and have enough time,i walk to my workplace also.i do walk when i go out for shopping.moreover i have a treadmill at my home.but i use it only at weekends. but as you said if its stifling hot i would better not walk.that would be really tiresome anda lot messy due to the sweat and the itchy feeling.