More Books for Dummies: This Time it is Frugal Living.

United States
September 30, 2007 4:42pm CST
I just saw the ad on myLot for a book called Frugal Living for Dummies and when I mentioned the title to my husband, he said "We wrote it!" We probably should have. Actually, this book was written by Deborah Taylor-Hough and I was delighted to see it offered here on myLot through an eBay advertisor. These myLot ads are getting more closely targeted to my interests every day. I am really starting to notice them. The fact is, we almost did write a book called Art for Dummies, long before the fellow who finally wrote it instead came out with his version, which I might add is a delightful book and he probably did a much better job than we could have. I love that book! The problem for me, though, was that we wanted to use it as a textbook and I thought that name would really gross out the kiddies. LOL. It did! We used it anyway. It grossed out the other art instructor more, though. I wasn't crazy about the Dummy part of the name, but content was what counted and this book was lighter to carry and cost around $50 less than the other books that we could have made required reading. So what do you think? Would you shun a good book just because it says you are a dummy for reading it. Are you that easily insulted? If a teacher assigned you a book to buy and read that was shorter, lighter, and cost a third as much would you be mad? Or do you think the name is cool? It is too late for us to change the curriculum, but I'll still be interested in your opinion.
11 responses

• Indonesia
1 Oct 07
I think dummy is better than troll(in harry potter series) or idiots ,hahaha Don't gets to serious bout the word. And who ever bought those dummy books they are are Big heart that admit lest knowledge and willing to learn.

• Indonesia
2 Oct 07
Hahahahahha!! imagine there is a book "Cooking for trolls" ; "Sewing for trolls" hahahaha!!

• United States
1 Oct 07
When you see a "Dummie" book, you are assured that you will have a step-by-step instruction manual on your selected subject. These books are accepted as wonderful resources and in no way are offensive to me. In fact I just acquired Needle Crafts for Dummies myself. I appreciate simplified instructions that are not confusing and even if I'm fairly acquainted with the subject matter, its always good to have a guide for reference. If a product is less expensive and contains worthwhile information, you would be a Dummie not to include it in your curriculum.

• United States
1 Oct 07
That is one I have not yet seen! I like needle craft too and will have to look for it. Thank you! I should have told the students that when they whined. The sad fact is that many of them were getting financial aid that paid for their textbooks and many of them did not care about the price. It is a shame how some treated their textbooks, knowing that if they lost them they could always get more.

• United States
1 Oct 07
Actually, I like the different Dummy books. I have Ebay for Dummies (I used it for a while when I was first learning Ebay and now my Mom likes to use it), PC Repair for Idiots (I desperately needed that one) and Basic PC for Dummies (from when I was learning the pc). They all helped although some of the information was so simple it was like Duh! But no it doesn't bother me. **AT PEACE WITHIN** ~~STAND STRONG IN YOUR BELIEFS~~

• United States
30 Sep 07
Around here the "Dummies" books are so popular that most people do not think twice about using them. It just means that when you are through with the book, you are no longer a dummy. Also it means you are smart enough to admit where you are not very strong, yet.

• Saudi Arabia
30 Sep 07
Hi! I think the ..for Dummies are great .and you know what they say: dont judge a book by its cover ....IF the book accomplishes what you are after then I 'll buy it. If you are really conscious of reading it in public I'd suggest a book cover ;-). I think anyone with a bit of a sense of humor realizes that we all need help with certain areas ..and if I m a Dummy at Art or Computers so what..thats the reason i have the book is to better myself right!..I dotn think anyone should be insulted and if the book is cheaper and lighter ..all the more reason to get it. We shouldnt be so snooty it holds us back rather than making us superior..that is my opinion.

• India
2 Oct 07
I'd prefer a book that was lighter and easier to understand (especially if it involves something that I have to do). I wouldn't be offended just because the title said dummies (well, I probably am a dummy and that's why I'm not insulted..lol) As long as the content is useful, I don't care what the book is called....but if it does have an interesting title...it would probably give me food for thought on why it is called so.

• United States
17 Oct 07
Why didn't we have a few hundred students who think like you when we were still teaching? We never would have retired! My husband would have kept working at the college until he was 112 with a long grey beard reaching to the ground. You have made my day!

• United States
30 Sep 07
lol yes I'd use a "for dummies" book. That way I know there's nothing confusing in it. :) "So easy a cave man could do it".

• United States
26 Jan 08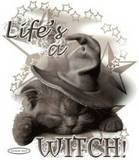 drannhh, It is now 4 months since you posted this discussion and I just posted a very similar one 3 days ago. SViswan sent your link to me after responding to mine. http://www.mylot.com/w/discussions/1386621.aspx As you will see, I am most opposed to the use of the word Dummy and Idiot; but then again I am an old hippie and a Raging Feminist, so with that said, perhaps that is why I feel as strongly as I do. You ask in your discussion if it was assigned by a teacher to read, would you? In that case, I would have not choice in the matter, but I am sure that I would raise my voice in loud protest.:-) ~Donna

• United States
26 Jan 08
SViswan is a nice myLot friend. I wasn't crazy about having to use one of the Dummies series as a textbook, but the name notwithstanding it was in every other way a more appropriate text than any other we could find, and believe me we looked. But inside, I totally feel the way you do. I'm certainly tolerant of everyone else's viewpoint on this subject, but inside I was squeamish about it. Thanks for stopping by and I hope to see you again soon.

• United States
1 Oct 07
I like those books for Dummies.I took it the way it doesn't neccesary mean it is for dummies, but it is probably easiest way how to explain something to somebody.And that's what I like about this books.The times is very important for me and I want get so many informations to my head and if the books like Dummies make it easier for me, why not?I think those who judge the book under the name they are silly, becuase the name not all the time say quality of book.

• United States
1 Oct 07
I love Idiot and Dummy books. I know when I buy one that they will be writen as simple as possible so I can trust learning from them even if I dont know anything about the subject. Though thoes are not the books we proudly display in the front room.

• Philippines
17 Oct 07
I don't think dummy books are really meant for dummy readers. I believe it is just to say that the book is written for laymen to easily understand what is written in it. Although I haven't really tried reading any of these dummy books, I believe they are really meant to educate.