Now Is The Time To Harvest Your Pumpkins...


October 2, 2007 9:54pm CST
Yes, Samhain/Halloween is approaching, October is the month of the last harvest of the year, and time to harvest your pumpkins. If you haven't ventured in the growth of these versatile orange orbs, then you'll find them in abundance in greengrocers' and country farm shops. When buying a pumpkin for carving, choose a lighter coloured one as they're softer and easier to carve than the darker varieties, and make sure it has a nice stem. Then, when you get it home, clean the outside with plain water and a sponge and allow it to dry. Keep it in a cool place, or even outside, until you're ready to start carving it. When you're ready, slice across the top and detach this top piece, to give you a lid. Then clean out the seeds and flesh inside scraping the inside wall to about an inch in thickness, setting aside the seeds for saving for next year's planting, or seed snacks and the flesh for use in cooking. Carving will be made quite a bit simpler at this thickness. Whilst you're busy doing this, get your kids involved by asking them to draw designs on paper, how they'd like to see the pumpkins look on completion. Transfer the design you wish to use onto your pumpkin by marking with a nail, small knife, or marker pen, then proceed with a cutting knife (preferably a pumpkin carver), to slowly cut out the design. Don't rush at it as it will ruin the design. When the design cutting is completed put a tea light candle inside the pumpkin, light and replace the 'lid'. Pumpkins lit by candles should never be left unattended. If you are going to leave it for any length of time, use a battery operated light, rather than a candle to light it. Be safe, at all times. Instead of carving out a lantern, the lid may be cut and the flesh and seeds taken out in the same way. Allow the inside to dry out and place soup, or some other type of halloween food in it, using it as a serving bowls, which will brighten up your halloween table. You could use one, or any number of these bowls. The flesh of the pumpkin may be used in numerous recipes, such as pumpkin pies, muffins, cookies, cheesecake, cake, soup, waffles, frappe, ice cream, marmalade, mousse and drinks, to name but a few!So be adventurous and have a colourful, glowing Samhain/Halloween with your pumpkins. Do you have any ideas as to what else you can do with pumpkins... keep it clean please! lolol. Do you have any decorative ideas, or food ideas? If so... won't you please share? Joyous Samhain and Happy Halloween to All!
10 responses



• Edinburgh, Scotland
3 Oct 07
A nice descriptive way of looking after an preparing a pumpkin. We are now well informed. The only missing part is why do we use these pumpkins? Are the used in a ritual to rid of evil spirits and when were they first used in this way. Have a nice celebration from Deeeky.


•
5 Oct 07
Lol Deeeky... you don't ask THEM... they ask you! :) I forgot something... in old times, people used to stay awake all night, in order that the spirits couldn't enter their bodies without them knowing. They also used to put out all the fires in their homes, so the house wasn't warm and inviting for the spirits, and light a communial bale fire on the hilltops, which became the Druidic bale fire, used in many rituals. Samhain is the Great Festival of the pagan year, and Celts and Anglo Saxons regard it as New Year, but I choose to celebrate Yule as the New Year because that's when the Sun God is reborn and starts to grow in strength again, as the daylight hours begin to get longer. :) Have a Great Day!


• Australia
4 Oct 07
Thank you for sharing this with us, Darkwing. I always wondered about how you went about this. Here in Australia, Halloween isnt a big thing. Over the last few years though it is getting more popular. I have only been in this town about 1 year, and nothing seems to be done, but where i used to live, for about the last 4 years, they have been having trick or treating in the business district. The kids get dressed up, there are prizes to be won by both kids and shops for best displays, and the kids trick or treat around the shops. This is done as a safety measure so kids arent roaming the street, going to strangers houses. They have a great time and the atmosphere is great. Cant come up with any more food recipes really, but i do love pumpkin soup and pies. Pumpkin scones are yummy too Best wishes

•
5 Oct 07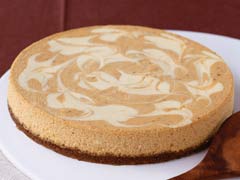 Thank you for giving us a view into Halloween traditions in Australia my friend.. I found that very interesting. If you take a look at my explanations in responses 4 and 5 from Deeeky and Aissha, you can read how trick and treating started in ancient times. I can't keep repeating myself or I'll get deleted, lol. As for the food, do give Pumpkin Cheesecake a try. It's lovely and I'm sure I can find you a link with a recipe... hang in there! This one looks yummy... it has a ginger biscuit and pecan crunchy base, and the canned pumpkin can be replaced by that fruit which you have prepared yourself? It looks like a good item for you to have on the menu in your cafe at Halloween time, too.:) I might even drop by and try a piece with you! lol. Seriously though, it takes time but looks well worth the effort. http://www.kraftfoods.com/Recipes/CakesPiesCheesecakes/CheesecakesBaked/PumpkinSwirlCheesecake.html Brightest Blessings for a Joyous Samhain/Happy Halloween, my dear friend. x

• Australia
6 Oct 07
I went and read the explanations on trick or treating, and it was great to read, as i didnt know it. the recipe for pumpkin cheesecake sounds yummy, i will have to give it a try. Thanks. It might go well in the cafe. Thats if i dont eat it all myself. haha. But i will definately save you a piece if you pop in! Best wishes and take care my friend. xx

•
6 Oct 07
You're quite welcome my friend. I'm glad you were inquisitive enough to go and learn about trick or treating. Strange, isn't it, that it became more popular in America and Canada than here, despite it having originated in the U.K. Then, I supposed America and Canada were populated by a huge number of Celtic immigrants in days gone, so they would have taken their traditions with them. Yes, the cheesecake does look AND sound delicious. I love the idea of ginger biscuits and pecans being mixed together for the base. I like both of those. Yummmeeeeeeeee. Brightest Blessings my dear friend. x

• Canada
4 Oct 07
Hello Friend, You have some great ideas Sweet, thanks for sharing! I had never thought of using a pumpkin as serving bowls, what a neat idea! Every year we just carve the pumpkin that we set outside Hallowe'en night, and with the inside I make toasted pumpkin seeds! Love & Hugzz, Your Friend, PurpleTeddyBear!

•
5 Oct 07
You're welcome my friend, and another thing that would make them look particularly attractive would be to carve or punch out stars and moons in a circle around the bowl, near the top! :) Have fun! Brightest Blessings for a Joyous Samhain/Happy Halloween. xx

• Canada
13 Oct 07
That is a great idea! Thanks hun! Have a great weekend! Love & Hugzz, Your Friend, PurpleTeddyBear.

• United States
3 Oct 07
I know, we are going to the pumpkin patch this weekend, I love using fresh pumpkin! I also use the seeds to make pumpkin seeds like sunflower seeds, my family loves them. I never thought of using the pumpkin as a serving dish, that is a great idea! Thanks! Happy Halloween!!!!

• Australia
6 Oct 07
Hey Darkwing that's fantastic. I was wondering how to carve a pumpkin and now I know how. This will be a great exercise to do with Holly and Hannah sometime during the week. Thank you dear one and joyous Samhain and happy Halloween to you and yours.

•
6 Oct 07
Yes, I'm sure Holly and Hannah will have a lot of fun carving pumpkins with you, my friend. I like the fact that you can make all sorts of different faces, happy, smiling ones and scary ones, as well as just attractive ones. The bowls look great on the table, especially with green items of food in, like celery or pea soup, salad, and the like, and little moon and star shapes can be punched out with a small cutter around close to the top of the bowls to decorate them. Cats can be drawn on them also, to add to variety. Pumpkins are so versatile, my friend. Thank you for your wishes, which are returned, threefold. :)

• India
3 Oct 07
Hatzzoff to your innovative idea(s)!! I used pumpkin to make a scare crow. I also relish pumpkin Halwa and Sambar(curry). I will pass on your idea of pumpkin carving to my daughter, who will be thrilled to try it out.

• India
3 Oct 07
Have you heard of Tambora ? It is a ancient musical instrument made out of pumpkin shell.

• United States
5 Oct 07

well yes my friend,i will be getting ready soon to gathering pumpkins with my babies and we love to carve them and make some really neat carvings.everyone gets their own pumpkin and decorates it,we also use them on our table for a decoration too.one of my good friends told me about this idea and i have been doing it every year i can.but another idea my friend gave me was a eye popping martian that my kids could make,so we tried it and it came out so cute.you need pumpking,knife,opaque light bulbs,black marker,wire coat hangers,cotton balls,tooth picks,apple.it real fun for the family and kids and man it looks so cute.hope all is well.pattie


• United States
3 Oct 07
I never had a pumpkin to carve until we did it at HeadStart. It is true, everything I need to know I learned at preschool. Kids who are tactilely defensive have a hard time of this. My contribution to ideas is that I have seen in magazines where they hollow them out and use them as vases for lovely fall colored flowers. I also will cook oatmeal and stir in a spoonful or so of pumpkin for each serving. With pumpkin pie spice, of course.

•
3 Oct 07
I like the vase idea. That would be a great decoration for my altar, full of autumn flowers, and perhaps a little oak and holly, to depict the slaying of the Oak King. Hmmmmm. Thank you for that, Gerty... very helpful. The oatmeal sounds great too. Thank you and Brightest Blessings.