Update on Kittens

United States
October 2, 2007 11:00pm CST
I gave one away and we lost 2 of them One we found dead and then today one got caught in the door I guess cause they was born outside they want to run out every time the door is open So we have 3 little ones left and Miss Mya will not give them up she does not know about the one that got killed today there is no way that I can tell her. I know if she don't become a Vet when she grows up somehting is wrong she loves every kind of animal and even when one of her fish died she cried for days. Sorry back to the kittens I put up a little fence in my office so they can't get to the door so another one will not get caught. Mya has named them boots Princess and Patches. so now we have them and We have one names Hawk and one smokey and one coco and my puppy ranger.
3 responses

• United States
3 Oct 07
awwwwww so sorry about that one in the door and you are getting a house full again aint ya hugs . Not good for a vet to cry though if she wants to be one she will be cring all the time and ya need a steady hand most of the time with them

• United States
3 Oct 07
I know and not we have a 29 and a half gallon tank for her fish lol

• United States
9 Oct 07
yup I had to I still have one of the 10 gallon up but I jave the other one away


• United States
4 Oct 07
That is sad about the kitten! I was just like your daughter when I was younger, and still am a bit, but not as bad about trying to save every homeless animal. I wanted to be a vet when I was young, but when the time came to choose my career, I could not bear to have to put the animals down and it breaks my heart to see them hurt, so I decided not to become a vet. Good luck with all the other kittens, though, I will be thinking of you!

• United States
4 Oct 07
Yes it is sad and i know what a mean by not becomeing a vet I hope Mya will change her mind to

• Canada
3 Oct 07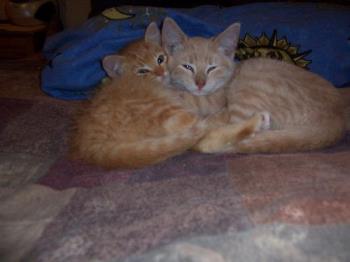 Sorry to hear about the loss of the kitties who didn't make it. I hope the ones you have left will grow into strong, healthy cats. We have 5 and love them all for the wonderfully unique personalities they have. Keeping them safely contained until they are stronger sounds like a good idea. I like the names you have chosen. When you reach the 500 club maybe you will decide to post images of them and let us see how they are progressing in their new life with you. Good luck with it..and I have included an photo of 2 of our cats when they were kitttens as an offering from one cat love to another! Hope you like it and if you decide to rate it and add acomment..it would be appreciated! Raia

• United States
3 Oct 07
Thank ya me to we have 3 ledt and i think we are gonna keep them so we will have 6 all together