Did you count your candy when you got home from trick or treating?

United States
4 responses

• United States
5 Oct 07
My brothers and I used to do that. We would come home and dump our candy out on the living room floor and go through it. We would trade candy too. There was always something that one of us liked that the other one didn't. We would always put our chocolate into a zipper bag and put our name on it and put it in the freezer. I like my candy bars frozen. My brother always had more candy than me, but we never went together. We would walk out the front door and he would go one way and I would go the other. We lived in a town of about 1300 people and got to go out by ourselves. Those were the days when you could let your kids go out by themselves.

• China
5 Oct 07
We don't have this Halloween festival in China, but it is really fun for kids to count the candies that they get from trick or treating. There is something similar to our Spring Festival, when the kids get their lucky money. They would count how much they have got and open the wrapping pack to see how much. It is always fun and exciting for kids to get their lucky money at this most important and traditional festival.

• Canada
4 Oct 07
Hi Laurla, I never really counted my candy when I was a kid because my brother is only 2 years older then me and we always went trick or treating together. Except when he was too old to go I still got to go for 2 years! The rule at our house was once you hit a teenager (13) you had to trick or treat retire lol. After my brother retired he always got into my candy, but I didn't mind sharing! Your Friend, PurpleTeddyBear!

• United States
4 Oct 07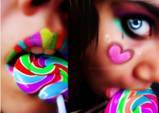 I loved going trick or treating when I was a child...I never really got into counting my candy but my sister did all the time..It was like everyday until it was gone to make sure no ever took any of her candy..It use to drive me crazy! But now that I have kids I always check the candy before they can have it and all of my kids count their candy...and sometimes they fight over who got more but it's really who ate theirs first! LOL