When do you put your christmas decorations up?

India
5 responses


• United States
4 Oct 07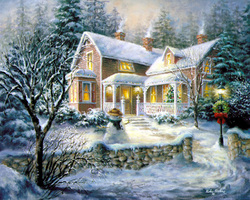 I normally put up my Christmas stuff the day after Thanksgiving...I love to decorate for Christmas..I wish it was Christmas all year long! LOL I take my stuff down after New Years Day....


• Philippines
4 Oct 07
Good question.. Last few days ago, my son and I discussing about putting christmas decors in our house, we close the discussion with this, we are going to put a christmas decor when his dad arrived in here, but suddenly yesterday my husband called me up saying a bad news that he cant be home on november the supposed to be schedule of his going home from the ship, because of the problem from his co-worker made, by that their schedule was harmed. And now we still not know when are we putting our decorations up.

• United States
4 Oct 07
for us sometimes its the day after thanksgiving and sometimes its the first weekend of december. depends on who all is in the mood and if we have to time to haul everything out and then have enough time left over to put things back. if there isnt enough time, im not even gonna start it till everybody is able to be there from start to finish! lol otherwise i end up doing it all myself!