John Travolta in Hairspray ...


Italy
October 4, 2007 1:53am CST
is exhilarating??? And Michelle Pfeiffer has such a sensual voice!!!! I am happy they decided to keep the songs in English even in the Italian version, just adding subtitles so to let people understand what they were singing...It is such an interesting movie.You'll enjoy yourself a lot and learn more against many kinds of segregation!!!
3 responses

• Greece
7 Oct 07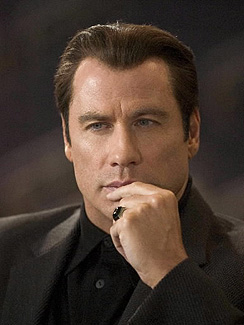 I like John Travolta's movies,the old as the new ones too (but I prefer him as he is now more).But I'm huge fun of Michelle Pfeiffer,I just love this woman. About the movie I don't watch it yet but I will soon . I add a photo for all those Travolta funs(I choose one as he is now,as I say I prefer him than the time he was young).

• Italy
7 Oct 07
hi my dear movie addicted friend. I strongly recommend this movie to you because it is such a joy for the eyes and the ears, too..and you will find two of your favourite actors, then, John Travolta and Michelle...apart from being a great actress she is so pretty that I can even envy her!!! Do you think she is so beautiful even now because of some natural privilege or she is another wonderful product of a good surgeon???? It seems she is very natural, however...so I can envy her!!! he he...the picture you chose makes him seem even more handsome and fascinating...it reminds me of another movie with him and Nicolas Cage that I like a lot...Face off...Have you ever seen it??? It is great..and I have a passion for Nicholas Cage, too even though I prefer the voice of Travolta better than the one of Cage...but this is just a little thing!!! I consider Cage a good actor when he really want!!!!

• Greece
7 Oct 07
I don't want believe that Michelle is another product of a good surgeon,she seems very nature.....but again with all these actors you never know. Nicholes Cage is another one favorite actor of mine.I love the *face off* movie.I watch almost all him movie but the last 1-2 was a big disappoint ( The Weather Man=too slow and The Wicker Man=I want back the 1.30 hour from my life that I spend watching it lol:)After all these I worry to watch the last movie(I past the Ghost Rider)but I watch the *Next* and yes was a good film. Speaking about good acting who can forget the *Leaving Las Vegas*....I' still craying...... OK somebody stop me here because I can speak about movies more and more and more..............

• Italy
8 Oct 07
I have not seen the Wicker man but I agree with you, The weather man was so slow that actually I felt bored. I think that he is doing a good movie every two or three!!! I love him in Face Off and in City of Angels...and I think he did his best in Leaving Las Vegas..but actually I liked also The rock and even Conan, although this is not a kind of movie I usually like. Yesterday I saw a movie with him that I didn't know anything about. In Italian the title is "Il prescelto" meaning the one who is chosen for a purpose..it is a sort of thriller...lots of suspence. he is a policeman who reaches a Pacific Island in order to help his past girlfriend finding her lost girl...very good movie.


• India
4 Oct 07
WOW!! That sounds great. I did not know that M Pfeiffer sings as well. However, have seen J Travolta with all such stuffs before. He is a talent and a great show to watch. The combination would be just fine. Waiting to watch it, Maribea. Thanks for sharing. PS: This reminds me of the song by Robie Williams and Nicole Kidman - I love you.

• Italy
4 Oct 07
I read somewhere that Michelle did sing in another movie, too but this is the first time I saw her singing and dancing and she is sensual and elegant. Travolta is a must!!!! And yes I remember that version of the famous song by Frank Sinatra and his wife..Nicole seemed like a little innocent child with such a sweet voice..wish I could record a song, too...singing in a soft soft voice....anywhere here I listened to elusivebutterfly...she has a pretty voice, indeed!!!!

• India
4 Oct 07
So, you are a singer as well - that's great to know. Do keep singing - nothing like it. I just love music, specially soft music, blues, pops, oldies, country music.

• United States
4 Oct 07
OMG I cant wait to see that!! I loved the original movie yrs ago for starters but more than that I'm a HUGE Travolta fan and have been since the 70s so ANYTHING he does I love but to see him in this role will be fabulous!!

• Italy
4 Oct 07
i must admit I didn't know anything about this project before seeing the movie. Now I am aware of the fact that it was a famous Boradway musical, too..but I do join you: Travolta is great..just loved him in Pulp fiction and of course Saturday Night fever is a must..and I think he is doing great things in this second part of his career