Why do you think some people dont like having pictures taken of them?

United States
11 responses



• United States
5 Oct 07
Well, I don't know about other people, but my great grandma is 98 and she will not allow people to photograph her because she believes that taking pictures removes a part of her soul. It is a Native American belief and although not full blooded, she is serious about this. In my family, you have won the lottery if she allows a picture to be taken by you.

• Netherlands
5 Oct 07
Some people believe that when a picture is taken of them it captures a little piece of their soul. And that is why some people might not want to be photgraphed. I also know that most people don't like pictures of themselves because they will scrootenize every single detail, and find the pic not nice

• India
5 Oct 07
There are 3 important points we come to conclusion as reasons for now allowing anyone to take pictures: 1.They may be photoshy 2. They do not want you to get involved in their personal affairs 3. They probably have a feeling that they do not have photogenic face.

• Finland
5 Oct 07
Maybe 'coz they don't feel that the camera captures their best features? Some people grow awkward and stiff when they know somebody's going to take a pic of them, so they can't be natural. I know I had the same problem. I had to get my pic taken in a studio once. I'd never done that before, so I was so stiff when the photographer told me to smile. You know what he said, "Ahhh, that's not a good smile, so don't smile!" Then I lost my confidence. I thought I was just not camera-friendly, you know? But after I got my own camera, I practised smiling in front of the mirror and I managed to take good pics of me. I realized that it wasn't as hard as I thought.

• Indonesia
7 Oct 07
Maybe because they feel they look bad when teir picture have being taken and also when they see the result. Some people really2 always look bad when somebody take a picture to them. that's why there's a photogenic people.

• China
7 Oct 07
I also don't like taking pictures.My pictures are not good looking.My appearance on the photoes is much uglier than that in reality.That is why I don't like taking phothoes.

• Philippines
6 Oct 07
In my case I don't like someone taking of me Or let say pose to take some pictures because I fell conscious. I don't feel comfortable, Im shy I don't know why but that is what I feel during taking picture time.

• India
8 Oct 07
hi louie, well i juz love getting photogrpahed the most... i hve few of my friends they dnt like to get photographed as thy get very conscious in things like thy dnt luk good, thy are dark, thy arent photogenic n blah blah..bt i feel tht the more a person gets conscious bat things the more things go in the negative form..so one shud be free in thinking n expressing oneself..n shudnt have misconceptions or worng notions of being photogenic \ nt being photoenic...n shud try evrythng as thier photos are nt getting published in magazines or newspapers..i have a friend of mine who was conscious b4 n is now crazy abt her snaps n photographs..

• United States
7 Oct 07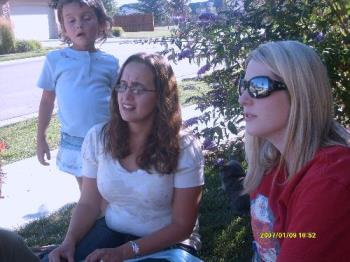 I personally don't like my picture taken because I generally don't like how I look in them. The one in my av is all right (I'm the one in the white and black) But usually I have a funny look on my face.... lol aparently my daughter takes after me.