Silly bird!

United States
October 5, 2007 11:40am CST
I had to share this with everyone!LOL Alot of you know I have birdfeeders outside my kitchen window and I also have a birdbath too. So I was looking out the window a moment ago and there was a big lovie dove just sitting in the bath and when other birds would come it would peck at them.LOL And its still just sitting in there. I guess the lovie dove has taken over the bird bath and not sharing!
5 responses

• Netherlands
6 Oct 07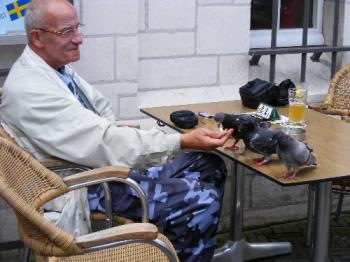 Hehehehe, LOL, really. Doves are something, very arrogant at times, and definitely "not sharing", like the one in your garden. Only if they are in a group like the once that were eating from the hand of my dad in Amsterdam, one of the photos from there I am attaching here. Pity that you weren't able to make one of the pidgeon in the bath ;) TheFortunes

• Netherlands
6 Oct 07
Terry, hoping that I didn't make a mistake and that doves and pidgeons are of the same family of birds?

• United States
6 Oct 07
awww sounds like the birds are having a party over there.how cute.it must be funny to watch.what a cute story.pattie

• Australia
6 Oct 07
what a great site to see. I would of had a good chuckle if i saw it. will be interesting to see if the lovie dove stays around and continues not sharing.hehe. I think its great you have the birdfeeders and bath in your yard. best wishes to you, terry, and take care