my friends little girl

Australia
October 6, 2007 7:46am CST
I would just like to let you all know that my friends little girl, who was sick, has had all her tests, and everything has come back clear. There is no cancer or anything. The doctors are not really sure what the problem was, but she is now fine. I would just like to say thank you for your prayers and kind words, they went a long way. It is great that we can share our ups and downs, and have friends here to offer kind words and thoughts.
6 responses

•
6 Oct 07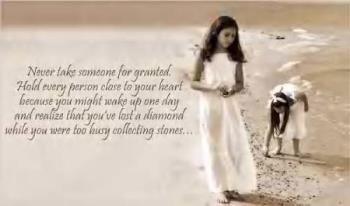 Ohhhh Kay, I'm so happy to hear this news. The only down point now is that the poor little mite will probably get used as a pin cushion and guinea pig in order to find out what the problem was, but I guess in comparison to what could have been, that is a minimal worry. Yes, it is great that we feel able to ask our friends here for their prayers, energies and kind words. I am always mindful and greatful for them. Now that has turned out well, perhaps things are starting to look up for you... I sure hope so, and you're continually in my thoughts. Brightest Blessings my dear friend and thank you for sharing this happy update! xxx

• Australia
6 Oct 07
I know they will be keeping a very close eye on her, and that will probably include a lot of testing, which wont go down well, but at least they have ruled out all the bad things. She is very fortunate. Hopefully things are looking up. Actually, again being positive, i know things are looking up. Best wishes to you and take care. xx

•
6 Oct 07
Yes, they are. This time of the year, in my tradition, is a time for reflecting on achievements, failures etc., during the year. We have a way of ridding ourselves of the negatives and preparing our seeds for planting at Imbolc and growth throughout the year, to harvest. Therefore, I see October to Mid-December, as a thoughtful, subdued time, when we rid ourselves of all the bad harvest from the year past. We store the good harvest for Winter and with the rebirth of the Sun God, and the lengthening of the days again, we look toward Imbolc (February) for our new beginnings. The Sun God gives us the strength to grow and we will become more positive again. So... keep going forward my friend, and all will be well. Brightest Blessings.

• Australia
15 Oct 07
I'm so pleased that this has been a good outcome. I love the way we can share these times here wwith our friends. The world can be a hard place to live in sometimes and times can be hard. It's great to have a place to come to and friends to share our lives with and gain comfort from. Blessings to you and your friends.

• United Kingdom
12 Oct 07
Kay I know I am a bit slow on here lately but you know why But I am so happy to read this Sweetie and I really hope she will stay fine This is what happened to my Son when he was 4 months old I will never forget it they could not find anything but for 48 hours we did not know if he would live or not but he did but those where the hardest 48 hours in my Life Hugs to you

• Australia
13 Oct 07
Hi Gabs. It is great, and everything is still fine. It was a really hard time for the family, as with you, i have been in this type of position too, with one of mine. It is so hard to know how family feels unless you have been there, or have it happen to someone close. Lots of hugs to you, and its good to see you around. best wishes and take care. thanks for your response

• United States
6 Oct 07
I'm so happy for the little girl. There have been a lot of times the doctors didn't know what a problem was that I had and for the life of me I don't understand that. What did they study to be doctors for if they can't tell us what is wrong with us?