photo from the car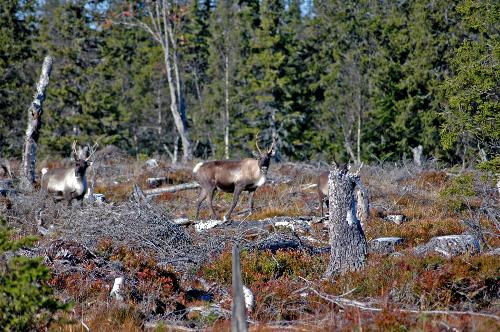 Sweden
October 8, 2007 2:58pm CST
When I was one my way to my ancestors old place last wekend come some reindeers out on the road, they just cross it and I hawe to try to take a photo of them when I was driving wery slow. I shold hawe one outher lens but it was no time to change, so its not a soo good photo but they where so good looking animal. It was around 10 reindeers and its only 3 at this photo. They was not able to get them together and stand still.
6 responses


• United States
8 Oct 07
Don't you hate it when you can't get the reindeer to pose?! Ha ha. Just kidding.:) Reindeer are beautiful animals. We don't have them where I live, but I have seen them at zoos before. I love the wooded area you were in as well. It seems like you might have gotten some good pictures.

• United States
8 Oct 07
Hi matte!Its still a good picture. Wow you have reindeer where you live? I like the reindeer! I have deer in my backyard.

• Netherlands
8 Oct 07
Very nice of you to remind us with your photo about the upcoming Christmas and that Santa will be coming using these reindeers :) Rated and commented your photo too TheFortunes

• Canada
8 Oct 07
Hi matte.Beautiful picture!I just love reindeer it reminds me of christmas coming.They are beautiful animals and graceful.:)

• Singapore
18 Dec 07
it's very fortunate of you to come across them! i went to a farm in new zealand and all the deer were so shy. we were really quiet and walked really slowly but they still all shied away to the far corner of the field and we couldn't even get a good shot using the most powerful zoom function on the camera. these are beautiful creatures.