incorruptible, body of Saint Bernadette of Soubirous, died 121 years ago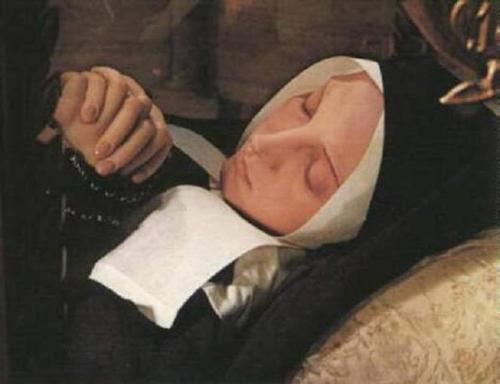 Philippines
4 responses

• United States
10 Oct 07
Wow, she still looks so young even after all that time. She's like a goddess where not aging at all is concerned. She looks more like she's meditating or something. Really cool.

• Philippines
10 Oct 07
yes she looks like she is just medidating and will soon be opening her eyes again. she looks very peaceful. thanks for the response lancingboy.

•
10 Oct 07
she is so beautiful. i wish i can also have a chance to watch it on the TV. i want to watch the whole story.

• Philippines
10 Oct 07
i was trying to look for a link if there is, so i can share it to myloters and so that they can watch it too but i cant find any. thanks for the response


• Philippines
10 Oct 07
i just got the photo from the net, i was really amazed with the story so i posted it here at mylot. i was looking for a link at national geographic site if i can watch that episode again but i was so frustrated i couldnt find it. i think the photo was taken last palm sunday, im not sure though.

• Philippines
18 Jun 09
I read her biography like 5 times when i was in college... and i was really moved by how she lived her life... like when they only ate onion soup for dinner almost everyday... and how she tried to repent for petty sins she committed even when she was still a child... i think those who lived a life as pure as her deserves to be one of the few incorruptible... i just hope i will be able to view her body in the future...