Whats you favorite fruit?


United States
October 10, 2007 6:55am CST
I love all fruits...we can eat fruit everyday all day long and not get tired of it....But my favorite is Kiwi and Cherries....But I buy all kinds of Fruits and I make a fruit dip for the fruits so my kids can dip it...They love it this way cause it get them to eat more fruit....What is you kinda fruit that is your favorite? Do you make a fruit dip for you fruit? If so share the different dips you make... I use... 2bricks of soften cream cheese a large tub of fluff(marshmellow) about a teaspoon full of Vanilla I whip tham all together till creamy I use like 3-5 strawberries and a few bluebarries and I blend them into the dip to give color and some taste then I cut up the fruits that I was in it and just mix it till all fruits are covered with the dip.... And thats how I make my fruit salad and my dip cause sometime I don't mix fruit in it I just let the kids dip their fruit into it... What is your favorite fruit salad?
6 responses

• Fiji
11 Oct 07
Ahaan :-) Even I love eating all kinds of fruits but if I had to pick a fav it would be Apple. We usually make fruit salad at home on every sunday's. All I do is just cut out all different kinds of fruits and mix it up. For example, banana, apple, pear, pawpaw, cherries and etc (entirely depends on whatever fruit you prefer to have !

• United States
11 Oct 07
I love fruit. Your dip sounds really good. I'm going to copy it down and try it. I love apples,grapes,plums and all the berries. The only fruits I really don't like are melons.

• India
10 Oct 07
I also love all the fruits but more specially i love mango. I like the taste of mango fruit so much that i eat it too many times a day when it is the season. Mango is good for health but also adds up heat to the body. So intake of mango should only be limited. And one should not drink water after consuming mango because it will lead to dysentery.

• China
10 Oct 07
my favorite?maybe I should say it is apple.on the hand,it is good to our health,especailly in winter,after breakfast,eating an apple is very beneficial;on the other hand,its price is low in our country,and I can afford them,lol.

• China
15 Oct 07
Like you, I also like different fruits. As I think that they are healthy to our body and we can get from them different vitamines that our body needs. My favorite is apples of them all and they are easy and cheap to get as they are very common fruits of all.

• Singapore
11 Oct 07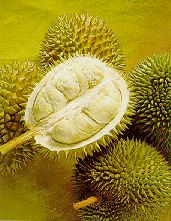 Hello there. I love all fruits too. But my favorite has got to be durian. It's a tropical fruit found mainly in Southeast Asia. Some people find it smelly and do not dare to eat it. I personally do not find it smelly. I love the taste. To me, it's heavenly.=D In my country, we have many durian desserts. I like durian cakes and durian puffs too.