What are you going to do on next hallowen?

Italy
4 responses

• United States
10 Oct 07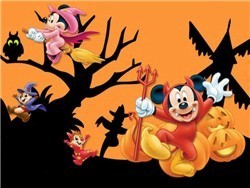 About the only thing we do on Halloween is to go Trick or Treating...My kids are still young and have to go trick or treating..Bu tonce they are grown and are older we will be the ones who pass out candy...I can't wait till that day comes LOL


• Italy
11 Oct 07
Yes, we are Catholic too, and in our country Halloween is seen more as a consumistic newly introduced chance to organize a party. In our family, we have a 1 and half years old child, we dress our baby as a pumpkin and eat some candy, that's all.

• Italy
11 Oct 07
... or may be, since I've got diabetes and the pumpkin-dress used last year is a bit narrow for my boy: we will dress him as a candy and eat some pumpkin recipe (I got one very good: rice with pumpkins, very low calories content!)... good bye myLot friend.

• United States
10 Oct 07
Probably get all dressed up and hang out with friends, go trick or treating and maybe have a drink. We live in a college town so I am sure there are going to be tons of people out and about.