What would your dream vacation be like? Where would you go?

United States
October 27, 2006 10:33pm CST
My dream vacation would be to Italy. I'd love to travel all over Italy, especially the Italian Riveria. I'd like to visit goldsmiths and olive orchards and all the fabulous ancient ruins. I've gotten some language CDs so I can learn Italian because I am determined that someday I will go to Italy for my dream vacation. I'd also love to go to Jamaica and spend about a month doing nothing but laying on the beach. What about you?
6 responses


• United States
28 Oct 06
Jellen, let me know when you go. I'm saving my pennies. We can meet at the Colliseum! LOL!


• United States
30 Oct 06
mcmomss, you should come visit us over at BlogFeast. We have 2 regular bloggers from Australia and one from New Zealand. One of the bloggers from Australia frequently posts pictures for us - some of them are gorgeous.

• United States
28 Oct 06
Good question! I would probably go to Greece. I just love how beautiful it is. I want so badly to spend a month there with my fiance (and have him be my husband at the time). It's just so clear and pure over there. Or so it seems. that's my dream vacation.

• United States
30 Oct 06
This pictures I've seen of Greece just take my breath away! That would be an awesome honeymoon!!!

• United States
28 Oct 06
My dream vacation would to go to the British Isles. I've always been a history buff and would love to spend a summer just cruising around England, Scotland, and Ireland.

• United States
28 Oct 06
Me, too, promptwriter. Actually, I've always thought I would like to live in Ireland. I've got a lot of Irish in me. I used to listen to stories my great-grandmother would tell about Ireland. Maybe when I retire I'll make it over there for an extended stay.

• Netherlands
1 Nov 06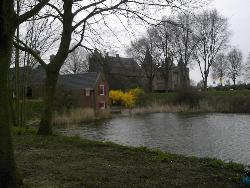 Somewhere away from people with a mild climate. Somewhere I can just relax and enjoy the scenery and weather. I wish....