Do you believe rubbing a toy troll's hair brings good luck?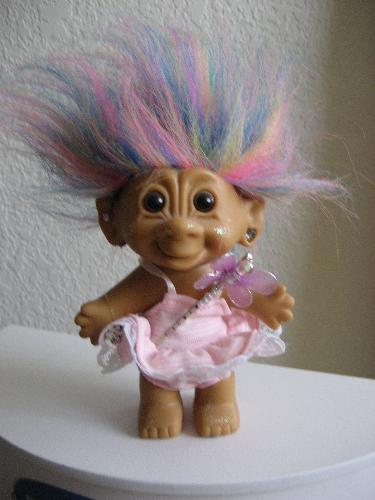 United States
October 11, 2007 11:09pm CST
I certainly do! No, I am not kidding. If you can rub a troll's rainbow colored hair you are already lucky because that probably means you have a Norwegian Troll. Anyone who has such a toy is lucky to have it. What would life be without them? We have one in the kitchen filling the role of assistant chef. If my husband doesn't like his dinner and starts to say so, I remind him "Shhhh, you don't want to hurt the troll's feelings. She slaved over a hot stove making the best meal she could for us!" (It must have been the troll, as I would certainly not prepare a bad meal.) Here on the internet, the term "troll" usually means something bad. I'd just like everyone to know that my cute little Treasure Trolls do not find this amusing. I hope all the people on myLot and especially my friends will tell this troll that she is a little cutie and welcome here in myLot. Trolls Rule!
5 responses

• Philippines
13 Oct 07
Hello little cute troll! Make more of those super delicious meals for drannhh and her husband, okay? Hello drannhh. Now I have to find those trolls that I got from McDonald's Happy Meals. I have I think 4 of them but theirs are not rainbow-colored hairs. I remember one has pink hair. Another has green, another has orange, and another has violet hair. I might not believe about the "luck" in it but I find trolls to be super cute! :)

• United States
13 Oct 07
They will accept any positive feedback they can get. The little critters love attention! If you put all 4 of yours in a group, you will have a nice enough rainbow! Oh my, the troll is preening herself. She is so happy that you stopped by to admire her.

• Philippines
14 Oct 07
Hello drannhh. You really do make me smile :) Thanks for that. You seem such a happy person. I will now make sure that my little trolls hear how cute they are hehe. Take care

• Philippines
12 Oct 07
This is the first time that i heard or read about a troll's hair being lucky... i am not very fond of trolls... although years ago they were a craze in my country... people started giving them as gifts... i did not take notice because i thought they are just like those cabbage patch dolls... But if you say that they are lucky... then i would have to keep a look out for trolls... i haven't seen them for quite a while now...

• United States
12 Oct 07
Oh, yes, fortune plants and trolls are both welcome additions to any living space. I have quite a collection of these trolls, and am glad that I acquired them during the troll-craze, as really cute ones are rather hard to find these days. I got the one pictured here from a dollar store. We've certainly gotten more than a dollar's worth of fun out of her over the years.

• United States
13 Oct 07
Hey Drannhh, you just remind me the time(maybe 10 years ago)when everybody was crazy about them.I remeber I have still few of them in my mom house.But I didn't know they would bring you a luck.next time I would go home I have to bring them with me and put them to my apartman. This was really cute discussion.Maybe I should do the same like you to put one in the kitchen, when my man would not like the dinner.

• United States
13 Oct 07
Yes, by all means assign one of them kitchen duty and if your man wrinkles his nose and looks like he is going to say something he shouldn't, just instruct him that all complaints go to the troll, but that if the troll gets mad there may be no dinner at all the next night. You can only push a magic troll so far...

• Canada
12 Oct 07
You're way too funny Drannhh!!! I love this discussion because I have a huge collection of trolls. I've been collecting them since I was about five. I've never heard that they were lucky before, but maybe I should start rubbing their hair just in case. Thanks Drannhh! ;)

• United States
12 Oct 07
Hello Drannhh, Somehow I missed this beacon of bright and fuzzy futures. And here I was, just relying on my lucky bamboo tree, and e-mail notices from Madame Boolsheeta to help me win the lottery. It's no wonder I haven't won yet. I will surely have to endeavor to find a troll of my own. So, the ones with the rainbow colored hair are really that much more lucky than the ones with just blue hair?

• United States
12 Oct 07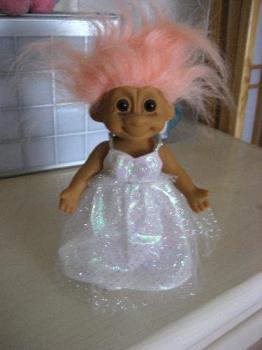 Just blue? Hah! The blue haired trolls are magnificently fortuitous. Aside from matching your decor or being soothing to a present mood, I really don't think the color of the hair matters as to the amount of luck they bestow. Since someone has probably told you about my adventures in getting a shower curtain of the right cut and color, you may as well be the first to know why this coral, shrimp, peach or whatever shade of un-pink was so important. Of course! It needed to match the hair on my bathroom troll, pictured below, just for you, Ladyluna!