Who is the most beautiful among these three ladies?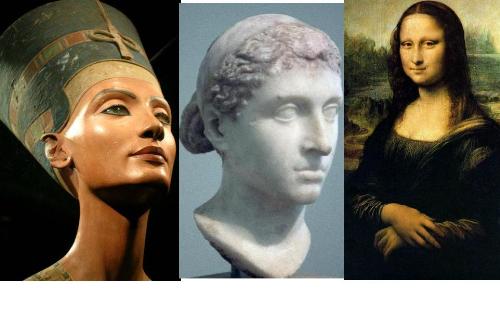 India
October 12, 2007 3:31am CST
Nefertiti,Cleopatra and Monalisa. Could you please tell me why?
6 responses

• United States
14 Oct 07
Mona Lisa looks too homely for me. It's a tie between cleopatra and nefertiti. they are both gorgeous ladies.

• India
12 Oct 07
Me personally think It's Cleoparta. Monalisa is beauty personified, however, it's an illusion of Leonardo da Vinci. Nefertiti and Cleopatra have historical memoirs. I haven't found Monalisa that beautiful whatsoever, may be I need to have more imaginative eyes. Only legend I know about Nefertiti is that she had a beautiful, long neck and since her times a long neck is considered very beautiful for women. I find, Cleopatra the most beautiful among the three. She is a perfect blend of beauty and brains and my vote goes for her.

• India
12 Oct 07
She is a queen of immense beauty ruled alongside Akhenaten. The name Nefertiti itself means, "The beautiful one has arrived." I always have a fascination for her.She sure is beautiful. Well the name Cleopatra itself synonymous with beauty to us.But is it fair to neglect another equally beautiful queen to some extent?And I am with you as far as Monalisa is concerned.She may be a masterpiece but she isn't that beautiful to me to.

• India
13 Oct 07
So, Bala, Zuke we all are in the same boat. I have not understood the logic behind the beauty personified thing in the portrait of Monalisa. But then I respect others who do so. Thanks, Bala, for giving me more details of Nefertiti and Cleopatra. It was really enriching.


• United States
12 Oct 07
I think is Cleopatra because of her beautiful dark eyes and her bravery.

• United States
13 Oct 07
Well, I heard that Nerfertiti was probably beautiful too ,but Monalisa was just a creation of Leonardo De Vinci ,so I don't know if she was real.

• Philippines
13 Oct 07
monaliza...coz she has a mysterios smile and meaningful.

• Malaysia
12 Oct 07
To give answer to your quiz I need to have a scale of comparison, as we all don't live in their era or time or century of life. May I choose their respective originate country for my scale to my decision making and as for why. Both are Egyptian for Nefertiti & Cleopatra and Italian for Mona Lisa. In comparison to todays world, I think, the MOST beautiful award from me goes for Mona Lisa.