Island Paradise...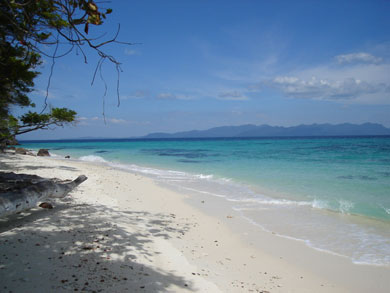 United States
October 12, 2007 12:43pm CST
I have a game I love to play called Tropix. In it you buy islands and set them up. Sometimes I think it would be so great to live on an island...out in the middle of nowhere. Just me and nature. No phones, no worries, no hassles. Just the clear crisp waters and endless miles of sand. I loved the movie Castaway and wondered why at the end he didn't go back to the island. I would have loved staying there. Maybe I'm nuts b/c I know I'd miss my family terribly and I love having my comfy apartment and internet. Ah well, chalk it up to a daydream LOL Do you ever daydream about things like this? Would you like to be stranded on an island? Do you think you'd want to leave it or stay? **AT PEACE WITHIN** ~~STAND STRONG IN YOUR BELIEFS~~
7 responses

• United States
15 Oct 07
I would love to live on an island...in a cabin, lol! Like you said,..no phones, no worries, no hassles....ahhh, the good life. But, I would only want to be about 3-4 miles away from shore, in case I got a toothache like he did in Castaway, ugh!....at least I could row my way back in, haha. This way, if I was that close to shore, my family could come and visit anytime they wanted, or, I could go and visit them too. It sure does sound good to me, love coconuts too, yummy.

• United States
14 Oct 07
I never considered an island paradise. For me it would be terrible. I prefer the mountains.My paradise is a cabin in the mountains. I would have satellite t.v. and internet service. All the comforts of home but I would be in the woods.

• United States
13 Oct 07
I have no desire to be stranded on a deserted island.I like people to much and activity...it never hurts to daydream ,we all do it and then reality sets in....I thik day dreaming is a blessing...Life is hectic sometimes and when it gets stressful, we can sometime go off into a daydream,this is a helper in times of stress...Its better than taking medication.....No you are not nuts you were just probably releaving a little stress....There is nothing you could ever do in this life that someone else has not done before us....I went to Hawaii for 14 days,it was beauitful but home was sweet when i got home....

• United States
12 Oct 07
Living on an island would be great, but I don't think I could live on it alone. I would miss too many people that are in my life. I was away from my family for 5 years when I lived in New York. I didn't much care for that. While I treasure my "alone" time, I would not like it to be a permanent thing. PEACE


• United States
12 Oct 07
I think what troubles people is "stranded" lol I mean if I could come and go as I pleased and wasnt out there where no one knew where I was, I would want to stay. Like you said, aaah peace and quiet! lol I have often thought how cool it would be to own an island and have things ran my way, not sure how I would determine who could come and who couldnt. lol I watched this thing on Discovery about a guy who bought and Island and was turning it into a resort for the wealthy to vacation on. It was rather cool, I wouldnt mind doing something like that. Im sure there would be an off season and the island would pretty much be yours to enjoy alone at times. That would be nice. Bay Lay Gray xx

• United States
12 Oct 07
On your recommendation, twoey, I will try the Tropix game. I have never played it before, but I like to try new games. As to living on an island, I think I would be right in my element. The only provision I would add is that I would have to be in perfect health. I would hate to be stuck on a deserted island and get really sick, lol. I daydream about living on an island or in the mountains or even on a beach.