Translation Please?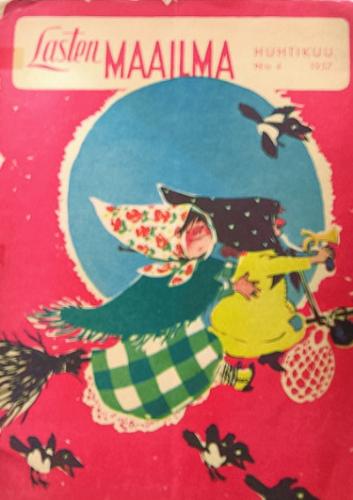 United States
October 12, 2007 2:07pm CST
Okay this old comic came from my moms possesion after she had passed. She knew I like collecting things so asked that I take it. I know this is old and ragged being printed in 1957. I want to know if any members here can translate this for me. I believe it is from Sweden as part says helsinki in another area of this comic. It has comics, crafts, and stories in it. Can someone tell me the title please? And if there'as collectors out here can you tell me what it's worth? Thanks in advance. HAPPY POSTINGS FROM GRANDPA BOB!!~
4 responses

• Malaysia
13 Oct 07
This is the prove that the word "Lasten Maailma" is FINNISH LANGUAGE;- http://www.amazon.com/gp/offer-listing/B000J4Y7JW/ref=sr_1_olp_4/103-4354222-5222242?ie=UTF88s=books&qid=11922394&sr=1.4 So the meaning for LASTEN MAAILMA, is; http://www.ectaco.com/English-Finnish-Dictionary LASTEN = Junior MAAILMA = World, Universe, Earth, Realm CONCLUSION;- Lasten Maailma = Junior World. Sorry Grandpa Bob, it took more time for me to do the searching because I cannot do the copy & paste yet to make a good answer and the references to your question. Thanks.

• United States
13 Oct 07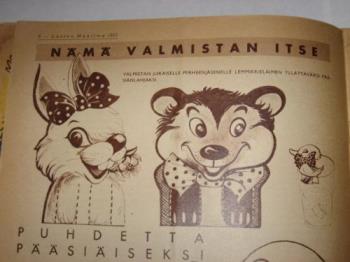 This sounds like it could be right. It is a childs appearing craft book at least. Here's another shor of the book. Maybe you can translate this part also? Hee hee. I am soooo lazy huh? Thanks very much also for the help. HAPPY POSTINGS FROM GRANDPA BOB!!~

• United States
13 Oct 07
Sorry, no help at all translating but what a neat thing for your mother to pass on to you - I would love to know what it says.

• United States
14 Oct 07
Helsinki is Finland, Grandpa Bob. I will have my Bob look at your picture, as his distant family is from Finland, and he grew up in a community where Finlander was spoken, and still is. I had no idea that there was a large Finnish population in the US, or that they had contributed so much to modern art, philosophy, engineering and literature. Oh well, I married this guy and now I have learned a lot. Like I said, when he is through cooking supper for me, I will make sure he looks. The words I see resemble a lot of the words I have seen on other things in his family and in Crystal Falls. Do not know if he can translate, though.

• United States
18 Oct 07
I hope so. Hee hee. Thanks also in advance. HAPPY POSTINGS FROM GRANDPA BOB !!~