myLot's STAR.. with a number inside it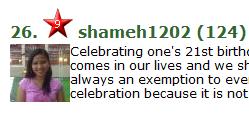 Philippines
October 14, 2007 12:20pm CST
Hello everyone in myLot! I'm just new here and doesn't know so much about the site. Just today, I have noticed that above my name is a star with a number inside it. What does it mean? The information you could give me would greatly be appreciated. Thanks:-)
3 responses

• Malaysia
14 Oct 07
Once mylot member reach 100 number of posting or so called as user's rating point, mylot will give star with grade figure on that star. If your internet browser is Internet Explorer V.7, you can move your insertion point and hovering on that star you will se your 'mylot reputation percentage'. If you could not see that, you just highlight the star, copy and paste it to other place. It writes, e.g. [mylot reputation 65/100]. Congratulations for your great achievement, SHAMEH1202.

• Philippines
14 Oct 07
Very well said. Thanks for the information you've given me. And thanks too for the appreciation:-) I think everyone of us here deserves an appreciation for I won't be able to give satisfactory responses without the interesting topics that other myLotters have posted. Once again, thanks:-)

• Canada
14 Oct 07
The star is the rating that other mylotters give you. It goes as high as ten. If you notice when a person responses to your discussion there is a +/- to the right. If you think they gave a good response you give a +. The more +s the higher your rating star will be. It doesn't show up until you get to 100 posts. Also if you respond to a discussion you can rate the poster of it. Hop this helps ya. Your doing great already at 9

• Philippines
14 Oct 07
Thanks a lot! Your explanation have enlightened me so much. At least now, I have the idea what these stars represent. And thanks too for appreciating my status. I just enjoy the topics in this site and I immediately react in every discussion that raises my interest. :-)

• India
17 Oct 07
Hi there.. The star denotes ur rating here on mylot, it can go upto 10.. It usually depends on the type of responses u give to other discussions, the nature of discussions u start, and the amount of responses u get out of it.. If the respondents give u positive rating, ur star rating will improve, otherwise it will go down... Well, u strted off quite nicely.. Happy mylotting...

• Philippines
17 Oct 07
Thanks for the additional info you've given me. It has really satisfied my query. Keep up the good works you've started in this site. I hope you will continue sharing your knowledge about this especially to new members like me. And I hope to explore more on this network and be able to respond to interesting discussions of other members.