Where would you shop for a shopping spree?

Abernathy, Texas
8 responses

• United States
15 Oct 07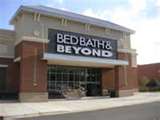 That would have to be Bed Bath and Beyond! I Love this store, and could walk around in there for hours looking at things and wishing I could buy anything that caught my eye. lol My bathroom could use a make over and I would like to add somethings to my kitchen and bedroom. Actually totally redo my bedroom, it has no theme or anything its just where we sleep. lol Id like to make it more comfy. Bay xx

• Abernathy, Texas
15 Oct 07
Oh I love that store too! I would love to get several sets of 300 thread count cotton sheets...a pretty bedspread - maybe one Asian one lush like a harem blanket. Or more likely two different duvet covers. Soft soft towels. Course a hundred wouldn't buy much there!

• United States
15 Oct 07
Oh yeah, there is nothing like lying ontop of some high thread count sheets! Its just a great feeling. I have a set of 300 count, but the rest are only 250. lol Needless to say I try and keep the 300 count clean so I can use them all the time. I was wondering what you were talking about.....lol its ok ;) Bay xx


• Philippines
15 Oct 07
hope this would happen soon! i want to shop at new york city! i'll go for famous brands like, guess, gap, xoxo, forever 21, rampage, and a lot more! i'll buy a laptop, digicam, a lot of chocolates, colognes, perfumes, and a lot lot more...dream on!!! why not? its for free after all, right?

• Abernathy, Texas
15 Oct 07
Absolutely right. Which store in New York City would you choose?

• Philippines
16 Oct 07
honestly, i haven't been to new york but my mind is full of pictures of my dreams (millions of pictures i think!), one is to go and shop in new york... im not familiar with the shopping malls, but i'm familiar with the brands.. :-)


• Abernathy, Texas
15 Oct 07
Totally counts - I'd totally spend mine
@
like E-bay or Amazon.com. It would go that much further - and possibly some at a thrift store. I'll check out that link - that's the second link I got tonight - the first was from pyewacket - she sent me this great link to a children's bed/playhouse site. I want some of those for myself!

• Abernathy, Texas
15 Oct 07
Bit expensive - just looked at baby stuffs so far - but cool - I asked for a catalog - love catalogs!

• United States
15 Oct 07
I'd want mine to be on Etsy.com, and I would probably end up buying a whole lot of the really luscious yarn that people sell there, along with a bunch of ACEOs (miniature artwork) and some steampunk jewelry and other accessories.

• Abernathy, Texas
15 Oct 07
I'll have to look it up - my mom likes to crochet...

• Canada
15 Oct 07
Put me in the middle of Future Shop or Best Buy Ca and let me at it! I need another large TV set, a Mac computer, the one with the 24 inch screen, at least, a Mac professional iBOOK, Microsoft Advanced Office for at least four computers (mu husband has a Pc and I do to.) Oh and I want all the DVDs for the Babylon 5 series, the rest for Stargate, a DVD of Sense and Sensibility and Pride and Prejudice, a new place to store all my office equipment, an excellent printer, all the ink refills for at least a year, lots of CDs and DVDs, I will have to get the Pretender dvd from the States (different photo on the cover in Canada), but that is not much problem. I would not mind an Ipod, the one with the video not just the music. And I want to change our cable box to the one that records. And all the DVDs should be in High Definition.

• United States
15 Oct 07
I do as much of my shopping at my powermall as U can. I earn rebates back from everything I buy. I would say before I got my powermall I did most of my shopping at Walmart or Michaels. But now I can indulge myself more because I am earning money as I shop. No betterway than that. I buy a LOT of art supplies. If you are interested check out www.leannsplace.com

• India
15 Oct 07
I just to indulge myself in all girly stuffs - bags, purses, shoes, hangings, bracelets...the list is as big as it can get. lol. I would love to go to my favorite one stop shop - SHOPPER'S STOP. It's my favorite place for shopping.

• India
15 Oct 07
i would like to shop at E-bay or Amazon.com and go crazy, and I'll take all the latest available electronic stuff......