Fast like a nascar.

United States
8 responses

• United States
17 Oct 07
I use the home row keys. Typing fast takes a bit of practice believe me. Heck I've been using the keyboard for almost two decades. Its been that long. So naturally I've got an adeptness at it. It's pretty cool at times when I can just let go and type like in microsoft word. But at other points where auto spellcheck doesn't happen like in posting on mylot, it gets annoying to have to go back and change. As I'm typing this I'm going into more of a bullet time with my words per second. Its also how I can get some lengthy responses or lengthy oneshots. The fact is, I can get carried away with typing and it leaves people's heads spinning. Something I'll have to work on, but thats fine. My words per minute should be somewhere at 70 per. Its pretty cool. I haven't tested it in a few years but I know I can really type up a storm. I even had a college professor say she was gonna "borrow" my typing one day. Its pretty cool.

• United States
16 Oct 07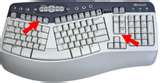 I can type pretty good I think. I cant type if Im not looking at the words appearing on my screen, unless Im typing something already written up. I mean I could...lol...its just not comfortable to me to "hunt and peck". Last time I checked I can type 77WPM. For as long as I have been typing though I think I should be faster. Ive used this key board so much that I have worn the letters off the keys and when my husband sits down to use it he has to ask me wheres the _____? lol He finally had me make him a little slip of paper to refer too since not ALL the letters are missing just the home row keys. I guess that means that the mojority of words contain the letters on the home row. Hmmm*raised eyebrows* Bay Lay Gray xx

• United States
16 Oct 07
LOL OK smartass, they are called the home row keys because that is where you place your fingers to type. LOL Duh!

• United States
16 Oct 07
Damn, and what do you mean you never use them? You hunt and peck to type?


• United States
17 Oct 07
I am not sure how fast I type but i know i touch type pretty fast (well for me anyways LOL) I look at the screen and don't often look at the keys unless i'm using the number pad.

• United States
17 Oct 07
Touch typing is typing without using the sense of sight to find the keys - pretty much what i said about looking at the screen and not at the keyboard :0)


• United States
17 Oct 07
Oh may I also add before you comment back to this, I have read your other replys to everyone and I think that you are being just a bit snotty arent you. So please dont leave a snappy comment to me because it would not do you very well because I will snap back and can be snotty also. You asked how many words we can type and if we use the home keys and that is what others are answering you back on, ok. Have a great day.

• Philippines
22 Oct 07
I am not a very fast typer. But not too slow, like like one finger and one letter at a time either. I usually look on the screen but most often look down to the keys to where I am typing. I'm using a laptop, so there's no numbers on the right just on top. And, nope, I don't have an idea how many words I can type a minute.

• Philippines
16 Oct 07
Hi kiobug! I guess my speed is just fairly okay, not too fast but not too slow. I do look at the keyboard once in awhile because sometimes I get to tap the wrong keys. haha..Take care and have a nice day.

• United States
16 Oct 07
I type really fast. I learned to type in high school. Sometimes my mom will call and ask me to type something for her because she says I will have it done much faster than her. I look at the screen when I type. I use the numbers at the top most of the time but sometimes I'll use the one's at the right. I'm not sure how many words a minute I can type now. I need to do one of those test things online and see.

• Australia
16 Oct 07
I learnt to touch type back in high school, which has been a great asset in my working life. Amongst other things, I've had data entry jobs and been a legal secretary, so being able to type quickly was essential. Wherever possible I try to use the keyboard instead of the mouse, so I use short cut keys as well as the home row keys. My typing speed, depending on the day, is somewhere between 70-80wpm and my data entry speed is at about 17000kph