Thd Biggest Loser week # 6 (spolier)!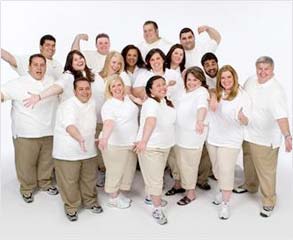 United States
October 17, 2007 12:06am CST
are you still watching the Biggest loser? Phil was voted off tonight and I was really pissed at Kim for telling the red team that they needed to vote Amy off just because she is not losing as much weight as the guys are! well all she managed to do was put Phil on the chopping block by telling everyone they could not win without him! Boy is she going to be pissed next week when she sees him gone and then to hear that they had a tie and the Blue team had to chose who went home! LOL The two i am rooting for are still in the game so that is good:) I am rooting for Kae she is on the blue team and Bill he is on the black team, he is the twin. so we are down to 11 now. who are you rooting for?
4 responses

• United States
17 Oct 07
I'm not sure who I'm rooting for. I like Bob, so I usually root for anyone on his team. I don't care to much for Kim. I liked Phil. I tend to root for the ones who are doing it for their kids too. I have little ones too and I couldn't imagine not being around when they are older.

• United States
17 Oct 07
I'm not a fan of the red team. :( But maybe I'm just not a fan of Kim, lol. I'm so mad Phil went home, though. I really liked him. I like Kae, too. I'm always rooting for the black team, but the girls on that team really annoy me. :(

• United States
21 Oct 07
I was upset too that Phil got sent home. He was the hardest working person on the red team and helped them win challenges. I think the Red team will be gone soon unless they merge all the teams together. I like Kae too as she is really trying hard and doing well at losing weight.

• United States
17 Oct 07
I was actually pulling for Phil because he has worked so hard and done so much for his team. That is sad that he got voted off like that, though I can understand why the blue team chose him. He was a threat as he was losing weight and winning challenges for the red team. The red team is going bye bye really soon now. Kim should not have made those comments either. She will be shocked to come back and see Phil gone.

• United States
24 Oct 07
I was rooting for the black team since Jillian is my favorite, and also because they were the "rejects" and I wanted to see them kick butt. But now that they have new teams... I guess I'm still rooting for the original black team members.