Chrismtas movies

United States
8 responses

• United States
19 Oct 07
I love so many... I think my new favorite is Polar Express though. I also love Santa Clause, A Christmas Story, Best Christmas Pageant Ever, The Night they Saved Christmas, Smoky Mountain Christmas... And of course all of the animated specials like Rudolph, Frosty, The Grinch. I actually never liked Miracle on 34th Street or It's a Wonderful Life.

• United States
19 Oct 07
I also love Christmas Carol. I've seen so many different versions. My favorites are Mickey's Christmas Carol and the one where Patrick Stewart plays Scrooge. But there are so many great versions. I've even seen 2 in which the Scrooge character was played by a woman. In one it was Cicily Tyson (who was phenomenal in the role), I can't remember who played in the other one.

• United States
20 Oct 07
Aww I love those animated Christmas shows! I can't wait for the marathons of them to start.

• United States
19 Oct 07
I saw A Christmas Story for the first time last year and liked it a lot. Also I'm a fan of the Home Alone movies, but only the first 2! Not the lame sequels without the original cast. And I like the JTT and Jessica Biel movie I'll Be Home for Christmas. Good question, Christmas movies are so much fun!

• United States
20 Oct 07
Wow really? They always have that all day marathon of it.

• United States
20 Oct 07
Yep, I must have watched it 3 times last Christmas lol

• United States
19 Oct 07
my fav is Miracal on 34th street

• Romania
19 Oct 07
I don't have to say i have a favorite one.But when you are near Christmas any movie will do as long it is a good one. But if i think every Christmas i liked to see Home alone although is a old movie.

• Philippines
18 Oct 07
My favorite Christmas movie would have to be Santa Claus the movie. It was one of my all time favorite Christmas movies and Home Alone as well.

• United States
20 Oct 07
Aww I loved those movies, I have them and my mom and I will watch them Thanksgiving day.

• Malaysia
18 Oct 07
hmm i think mine has to be home alone 1 and home alone 2. can't think of anything else at the moment hehe..


• United States
20 Oct 07
I don't know if I saw that one before, I probably have, but I don't really know who all plays in the ones I've seen.

• Philippines
18 Oct 07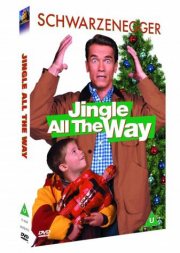 jingle all the way, my favorite. then home alone the first and second one. i have DVD of this movies