My Cat gave birth to a ONE kitten..is this NORMAL?

Bahrain
October 19, 2007 5:20am CST
Hi, it's been forever when I last post here. My cat gave birth 2 days ago. I was expecting at least 4 kittens and when she gave birth to one, I was really surprised. She is very fine, in fact after giving birth, she still greet us on the door and goes back to her kitten after she greets us. It's been 2 days now and no other kittens have come out and she is totally normal. BUt what wrong with her...Is it normal for a cat to give birth to one kitten only? anwers are appreciated.
7 responses

• United States
19 Oct 07
I had the same problem a while ago. Except it was my sisters cat but I was still curious. I was told that a cats first pregnancy usually only produces 1 kitten, and it is compeltely safe. But just in case, maybe you could go to the vet, they could make sure there are no other babies in their. But really, I don't think anything is wrong. My sisters cat gave birth to one kitten months ago and she is FINE! And the kitten is beautiful and healthy! =)

• United States
20 Oct 07
LOL--then the one female cat I had Whoopi must have been an exception,...her very first litter she had six!!

• United States
23 Oct 07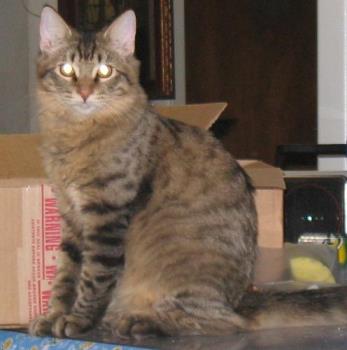 It is not ABnormal. If your cat was very young or very old it is more likely than for a cat who has had litters before. I found a female and after she was in labor overnight, took her to the vets. They had to do a c-section on her to get the single kitten out. I named him Solo.... He's 3 yrs old now & and big beautiful boy, more like a maine coone (have to put that "e" on it or mylot won't let it go thru) than like his short haired mom.

• Bangladesh
19 Oct 07
Its absolutely normal. You need not worry about this. I have a cat that gave birth 3 years ago similarity thinking of you what I expected 4 or 5 kittens but that gave one. Kitten and cat are also fine, that was male kitten, what about you? I was worried that time but doctor says its normal!


• United States
20 Oct 07
I agree with LilyoftheThorns that maybe you should get her looked over by a vet..I did have one female cat that did give birth to only one kitten...so I guess it isn't that unusual and she was fine--but the very first cat of mine that had kittens had six!