Happy IVGLDSWD!!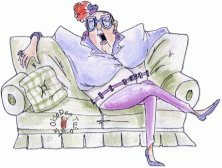 Canada
October 20, 2007 12:39pm CST
This came in my email today and I just wanted to share it with all my girlfriends because I thought it was really cute. I don't generally send a lot of these in email, but this way all female mylotters will be able to enjoy it. Today is International Very Good Looking, Damn Smart Woman's Day, so please send this message to someone you think fits this description. Please do not send it back to me as I have already received it from a Very Good Looking, Damn Smart Woman! And remember this motto to live by: Life should NOT be a journey to the grave with the intention of arriving safely in an attractive and well preserved body, but rather to skid in sideways, chocolate in one hand, wine in the other, body thoroughly used up, totally worn out and screaming 'WOO HOO what a ride!' Have a wonderful day!
2 responses

• Indonesia
4 Dec 07
*hehehe* thats very unique memorable day, dear. i just heard it from you. i just wonder how is the first person who announced about today is IVGLDSWD? :P anyway, happy IVGLDSWD and i think IVGLDSWD should be happened everyday, am i right ladies?