Pleasures of life.

India
October 21, 2007 8:45am CST
It is a pleasure pulling up the blanket for more sleep in the mornings. It is a pleasure walking along with your pregnant wife. It is a pleasure hugging her with the baby without the lust. It is a pleasure becoming responsible as your girl grows into a woman. It is a pleasure getting her married hiding your hardships. It is a pleasure to say good bye to her with heavy heart. It is a pleasure to lye down and reminisce your life. It is a pleasure to die at once if you are happy with it.
7 responses

• India
22 Oct 07
Life is such a great thing. Everything that happens in life is a pleasure only if we look at it that way. Extra sleeping, love, beauty, sitting in a park or beach in a pleasant climate, marriage, friendship, school life, college life, walking hand in hand with girl friend, playing with children, helping the poor. These are really great things that i have done and i want to do.

• India
26 Oct 07
Bala, I may not be much of a poet but I have my facts straight. The 'pleasures of your life' just show how commited and how attached you are to your family. You are a perfect hubby and even more perfect dad, no issues. I am sure you had stars in your eyes when you wrote this! I am glad that you are a happy person and so is your family. My wishes are always there with you. This discussion comes at a time when I am being forced to post, if not derogatory but certainly a critical post, regarding 'commitment phobia'. I must confess that the pleasures in your life help me gather courage to see life in a positive perspective yet again. After all all in not that bleak! Thanks for sharing.

• India
26 Oct 07
Dear Mimpi.Thanks a lot for everything.I am also not a thing that has a vague resemblance of a poet.god has been kind to me and blessed me with a wonderful wife and kid.I just cannot be unsatisfied with that and grumble about more money and all that.Yes I am a happy person and have been like that since my childhood. And Mimpi if those words of mine words have made a little impact or whatever in you I am very very pleased that it is of some use.

• India
27 Oct 07
Thanks so much for your elevating words. The air of simplicity, happiness, sweetness and confidence that I get from all your posts is so positive that I feel lucky to be your friend.


• Delhi, India
22 Oct 07
Wonderful collection of sayings...cannot guess if you have yourself devised this. Sounds excellent!

• Delhi, India
23 Oct 07
It appears that you are a genius and you can compile excellent quotes. Marvellous!


• India
21 Oct 07
hello balasri, i would just say one word for what you have said.its simply mesmerizing.and it touched my heart.i haven't realized that there are actually small things that bring pleasure in our life until i read this post of yours.actually these are facts that happen in our life.but some of them ignore it and some take the most out of it. though i haven't gone through all the stages and pleasures that you have mentioned,but still i can imagine and feel the pleasure that you would have realized or felt in your life.and i hope to experience those in my life too.the one that i have experienced is the first one about the blanket.it always happens with me in the morning.i have this habit of sleeping a bit more and my mom will pull my blanket.LOL. and hats off to you friend.you are indeed a happy person and a great human being.your wife and daughter are lucky to have you.


• India
22 Oct 07
yeah you are absolutely true.i think indians are more dedicated towards marriage and respect it.so as you said they understand their responsibility completely and that is what makes them to get rid of their selfishness.and thus gives a whole lot of new meaning to their life and makes their birth successful.i think its something unique.i look forward to those days when i will sense the same change in me and the awareness of a responsibility. and your daughter is in 6th std right.may i know whats her name?you know i am very much fond of kids and i love them like anything.whenever i see any baby or kid,i can't stop myself from kissing or hugging them.

• India
23 Oct 07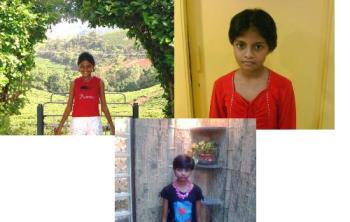 That is the strength and blessings of India.You can realize this only after visiting the world. I too love children.They are the flowers,and angels and the personification of innocence,truth and beauty. My daughter's name Srinidhi.I have uploaded some of her snaps for you.

• India
24 Oct 07
hello bala your daughter has got a nice name.and she is really very very cute.does she look like you or your wife?and its evident she must be doing lots of mischiefs.but thats the thing which makes them cute.isn't it?


• Malaysia
21 Oct 07
What a great list of pleasures that you have for this discussion. But the first pleasure that I could not enjoy and should be out from your listed pleasure. I cannot pulling up the blanket for more sleep in the morning because my kids will pull it down and ask for breakfast..LOL!. Man can continue sleeping in the morning, whereas woman with kids around, I don't think so can do it...

• India
5 Nov 07
Friend, I hope you have nearly composed a poem. Excellant. Exactly you are right!