This is What I Drew Today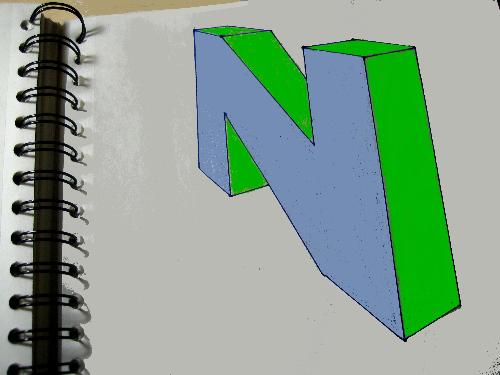 United States
October 21, 2007 10:23pm CST
Usually I do not have a lot of time to sit and draw, but even so I like to stay in practice by drawing something. Even a little time spent at the drawing table is rewarding. It is my special time just for me...a time that I concentrate and do not think about anything else. Some people have a journal where they write down their ideas from time to time, maybe every day. My journal is filled with drawings instead. Since I just had a few minutes of free time this morning, I drew this sketch of a letter "N" in perspective. What special thing do you try to do a little of every day in your own special time? Sometimes I get busy with other things and do not make an entry for a few days or even a few weeks. Does that happen to you, too, or do you make a consuming effort to make that little time for yourself each and every day?
9 responses

• Philippines
23 Oct 07
I wish i have your talent... i always appreciate works of art because i am not at all good in drawing anything... did you study how to draw?... N is a simple object but you were able to turn it into something out of the ordinary... we studied art in school but i was my waterloo... i would always get the lowest grade in all art project that we are assigned to do... so i would always ask my friends to do the project for me so that i will pass...

• United States
23 Oct 07
Anyone can learn to draw but not everyone can teach the skill of drawing. So many people end up thinking they cannot draw when they could with just a little help. My husband was a really good art teacher and still is, but now that we are retired he has only one student...me!

• United States
30 Oct 07
I sure appreciate your kindness in taking an interest. I have given most of my paintings away as gifts. Everyone says I should sell some, but I just haven't gotten around to doing any promotion. Exhibiting is a lot of work, and we recently retired, so I am still a bit lazy. If I can get my husband painting again, then as I am naturally competitive I would do more.



• United States
22 Oct 07
I have to say i like you "N" very much.It was long time, since I have drawn soemthing.You just remind me how great it is to concetrate only on that and relax with pencil in your hand.So you see yes it happen to me often, that i don't find even few minutes just to draw something.

• United States
22 Oct 07
Thank you! I was almost out of drawing pencils, so I ordered some online. Now I will have to draw more and use them up so I can order again. I love being able to get just about anything online. Maybe it is the shopping that is cutting into my drawing time, lol.


• United States
30 Oct 07
Well I cannot wait to see your photos! Your stopping by was indeed a nice surprise and I hope that when I put more drawings up you will visit them. Here is one I think you might like: http://www.picable.com/Art/Comics/Staying-Fit.45398

• United States
23 Oct 07
I do not often have even a little time to myself. If I do I usually come here. I have drawn a little bit at school during the day lately. It is fun, and I like to use color pencils. I do go a long time between projects.

• Croatia (Hrvatska)
1 Dec 07
Hello and good morning dear!!Month ago I didn't see this discussion ,but this morning I just start with "work" at MyLot and you "punch" me with your cute mix of colours!As a child of an Architect I live and lived with drawing and perspective!What I find excellent on this draw is your feeling for colours!!I can see a child in your heart,I think you are one big, nice and excellent child!Thank you dear and have a nice Day Silvana

• Croatia (Hrvatska)
1 Dec 07
Dear,what a nice suggestion but when i start think about getting visa for Us I became ill!!The best way for us is that you start think about visiting me !You don't need visa for visit my country!Second in new place you can start with new paints what will be big pressure for me!!See you dear child Silvana

• United States
1 Dec 07
I haven't drawn or painted anything in ages. I've got so many projects that I'm working on that take precedence. The last thing I drew was my favorite room in my mother's house. It wasn't really a drawing of the room, it was really just a page full of my favorite things in the room, or the things that, for me, captured the essence of the time and space... the big gold leaf ornate birdcage hanging in front of the bay window, the figurine of an african tribesman squeezing pus out of a boil on somebodies butt (leave it to my mother to buy something like that!) I would like to have a journal that was a mixture of writing and drawing. I so much want to put out the effort to do that, and I don't care if my entries are even months apart, I just don't know what has kept me from getting the habit established.

• United States
1 Dec 07
PS: I forgot to ask what is the significance, if any, of the letter 'N'? 'N' for Nice?? Because that is definitely a nice job!

• United States
29 Nov 07
Cool! I wish I could draw. I honestly can't even draw a stick man. I do take a little time for myself each day. I have been going fishing by myself for the past two days in a row. We have a lake here in the neighborhood and I'm catching fish and releasing them in my pond.

• United States
29 Nov 07
Neither could I until I learned. It does take more than a bit of time though, starting out, and there were days when I wished I had been fishing instead. Do keep your eyes open when you are at the lake by yourself, though, as you don't want any 2-legged critters sneaking up on you. I love to go out in nature by myself, too (which is why I took a few safety training courses...and go target practicing every now and then for sport and to keep in practice.)

• United States
30 Nov 07
It's not the two legged kind we have to worry about here in Florida. It's the four legged kind (gators). Don't worry, we have a shooting range right here on the property. I practice all the time! I am licensed to carry and I take my sig sour with me when I go to the lake.

• United States
31 Oct 07
Good morning Drannhh, I rather like your 'N'. And, I especially enjoyed your reminder that keeping in touch with our creativity is a wise commitment. I used to commit more regularly to journaling. For the past decade, or so, I only return to my journal when I find myself in an emotional quandry. I find that working out my emotions -- on paper -- is very helpful. I don't draw much at all anymore. Instead, I prefer to paint. Even that I only engage in the winter time. My summer canvas is my garden. The activities that I faithfully engage during 'my special time' are: writing, scouring the news wires to learn what's going on in the world, and studying/collecting gemstones. My 'special time' activities tend to focus exclusively on the intellectual mind. So, you're post this morning is a healthy reminder for me to delegate a bit more time to developing the creative mind. Oh, and I do regularly engage in meditative yoga. Yet, I don't consider that (so much) a luxury, as a necessity. So, I'm not really sure that I would consider that a 'special time' activity. Rather, I liken it to breathing or eating. I guess it's time to pull out my paint brushes, eh? Thanks Drannhh! This is a nice reminder to have a bit of fun!

• United States
1 Nov 07
It's a good thing I'm not in close proximity to your series. I might just be tempted to grab one of those green chili's, stuff it with soft goat cheese, and cook it on the grill in foil. This is how Hubby & I most prefer to eat our chili's. Mmm, mmm, YUMMY!