wht do u think about HITLER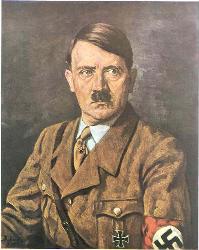 India
9 responses

• United States
31 Oct 06
Hitler had the right idea. He was a very smart man. Don't discriminate if you don't know exactly what he was about.

• India
2 Nov 06
i don't discriminate him.but do u think killing innocents waz rit.but personally even i thnk he was a gr8 leader and waz strong.but u need 2 accept somethings man

• Canada
2 Nov 06
Um... well Hitler was smart, and dedicated, a moving speaker, a good leader, he got things done, and he raised the status of women. But... he still killed old people, Jews, homosexuals, disabled people, and mentally challenged people. So... he was about a lot of things, sure. But I don't think it's discriminating to say I'm not for genocide.

• India
31 Oct 06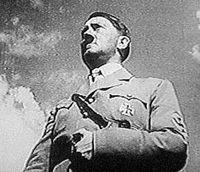 Adolf Hitler was born on April 20, 1889 at Braunau am Inn, Austria, a small town in Upper Austria, on the border with Germany. He was the third son and the fourth of six children of Alois Hitler. Hitler's given name, "Adolf", comes from the Old High German for "noble wolf", ie.)wise wolf. There have been rumours that Hitler was one-quarter Jewish and that his paternal grandmother, Maria Schicklgruber, had become pregnant after working as a servant in a Jewish household in Graz. The implications of these rumours along with his known family history were politically explosive, especially for the proponent of a racist ideology. Hitler made it illegal for German women to work in Jewish households. Hitler seemed to fear that he was Jewish, and as Waite points out, this fact is more important than whether he actually was. That's why he is villain to the Jews and makes revenge.

• United States
14 Nov 06
Good information, thanks much. Also thanks for putting out the discussion.

• United States
30 Oct 06
There's some proof that his grandmother had been impregnated by the son of a wealthy Jewish family where she worked as a maid. The family provided a monthly stipend for her for the rest of her life. Third, some think this family history colored his attitude toward Jewish people. Also, growing up he was beaten up and bullied many times, because of looking Jewish, in anti-Semitic Germany. He was really very messed up as a person.

• India
30 Oct 06
VERY GOOD PERSON,,KIDDING,BUT I RESPECT HIS DETERMINATION

• Singapore
30 Oct 06
I think if he was a good man, he will make a good and respectable leader. But too bad, he is cruel and evil.

• India
30 Oct 06
thanks 4 dat response man.mostly every1 has a same response

• Italy
1 Jan 07
i hope that return a person like this .....i think its only a dream

• India
1 Jan 07
Adolf Hitler's life again proves the fact, that corrpt and mighty people may rule for sometime, but eventually the good will win. Thanks to America for discovering the atomic bomb before Hitler did. It also proves that even a country like Germany which was thought to be a home for all intellectual philosophies, ethics and art, and creativity, can stoop to a level as to support a inhuman personality like Hitler.

• India
2 Nov 06
I have't any comment about him .Hitler gained power in a Germany facing crisis after World War I, using charismatic oratory and propaganda, appealing to economic need of the lower and middle classes, nationalism, anti-Semitism and anti-communism to establish a totalitarian or fascist dictatorship. With a restructured economy and rearmed military, Hitler pursued an aggressive foreign policy with the intention of expanding German Lebensraum ("living space"), which triggered World War II when Germany invaded Poland. At the height of its power, Nazi Germany occupied most of Europe, but it and the Axis Powers were eventually defeated by the Allies.