Not many Hitlers about these days, is there?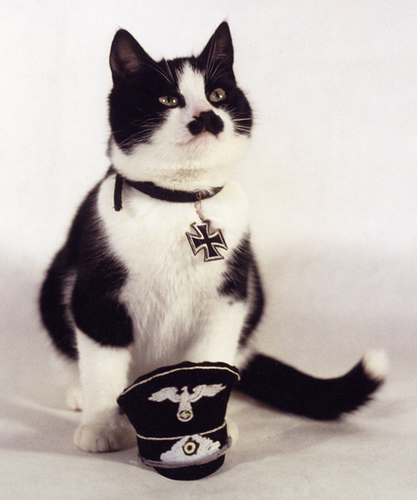 October 26, 2007 5:55pm CST
Here is a strange question on a friday evening. why do we never meet someone with the surname Hitler? it must of been a fairly common surname before the second world war, did all the Hitlers quickly change thier names to smith in 1946? have you ever met someone with the surname Hitler? Should they be embarressed of thier name because of one madman? is your name Hitler? what about Stalin? never met a stalin before either!
6 responses

• India
6 Nov 07
Hey good question xboxboy and you know what i have a different answer for you as well. Some time back we had a Hotel in Mumbai that was named Aldof Hitler !! kicked up so much controversy they had to change the name, which is sad. I thought it was one neat idea ;)

• India
6 Nov 07
where are staying? i am at Hitler's........what fun! but lots of people played spoil-sport and got it changed.....

• India
6 Nov 07
LOl but xboxboy i checked again it was restaurant that was named Adolf Hitler or would have been....not a hotel.....


• United States
26 Oct 07
Hiya X! Interesting question you have presented! lol I myeslf have never met anyone with the last name Hitler or Stalin. So I went to whitepages.com and did a search on the both of them; seems there are 25 Hitlers listed from many different states in the US, and 35 listed under Stalin, aslo various US states. lol Have you done any type of search like this? Bay Lay Gray xx

• United States
26 Oct 07
I wouldnt doub it X! Im sure they get hell from having a last name of Hitler or Stalin. I think I would change it! lol Bay xx

• United States
14 Nov 07
I know a man who is named Hitler Stalin, but he goes by Harry Smith to everyone but his closest friends. He currently resides in Argentina.

• United States
14 Nov 07
I see that you know him. You may have known him by his other common name, Harry Shite, or sometimes, Richard Shite.


• Turkmenistan
27 Oct 07
I think you may find a few in Germany. I believe that this is where this jerk is from. Of course, I never had a need to give him that much thought.

• Malaysia
27 Oct 07
It is OK xboxboy, it is not a strange question. A very good question for Friday night. For Hitler and Stalin, either they are heroes or villains, that is life all about. Some say hero and not less for villain. They are great life's references, depend on study subjects, bad or good. Anyway you're striking new great idea about it. It showed that they never die in people's mind. Frankly I no longer heard about new generation using that surnames; Hitler and Stalin. You always the best creative person, xboxboy. Much thanks.