What is your favorite Peanuts character?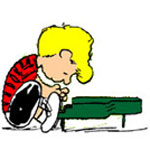 United States
5 responses

• United States
10 Dec 07
I would have to chose Linus as my favorite character. He was so logical even while dragging around his blankie. I have a grandson who is a blankie baby so he reminds me of Linus.


• United States
28 Jun 12
It's been a while since I've seen the original Peanuts animated series (not counting the Charlie Brown holiday specials), but I think my favorite characters are between Charlie Brown and his younger sister Sally. The two of them tend to say the funniest things in the series!


• United States
10 Dec 07
I love Snoopy & Woodstock. I think the sounds they make on the cartoon shows are hilarious. :]