Christina is Argentina: Are women taking over power from men?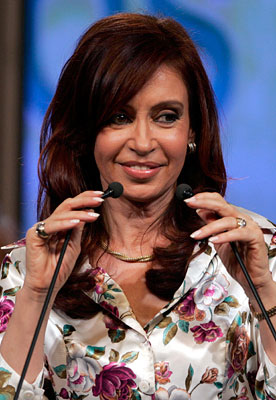 Uganda
October 30, 2007 8:37am CST
Yesterday it was Sirleaf of Liberia, then Angella Merkel of Germany, the French missed it narrowly in the recent elections, the Brittish had a long spell with the Iron Lady Margaret Thatcher, the Philipino have Aroyo, Hillary Clinton is trying to make the same history, and now Christina is Argentina's big fish. Are women telling the men they are "coming" to the political scene?
3 responses

• Uruguay
30 Oct 07
And you already had President Michelle Bachelet in Chile, at the other side of the Andes.

• Uganda
31 Oct 07
Oh my God, I didnt even know that-if you want to know what I feel, am very excited about this, in my country, they say if you want to buy a second hand car, get one that has been driven by a women because they are careful and cautious drivers. It will follow that a country led by a woman tends to be more peaceful. Perhaps if America was led by a woman there would have been no Iraq war!

• United States
10 Nov 07
I'd have to disagree with some of that but I get what you are saying. There are also very duplicitous women out there and if one ends up in a position of ruling a country/military might then the consequences would be dire (same as having a man in said position -_-).

• Uganda
11 Nov 07
Evil is engrained in the social fabric theprogramer, it would be erronious for anybody to think women are anyless corrupt or unscrupulous, but the trend in world societies, and you know this well, is that we have not seen women at the appex of leadership-they are just beginning to pop up and we need enough time to jugde them. I absolutely agree with you that even if they took charge like a few have done, they may still be running a system that galvanizes male efforts to maintain the status quo, but they are still absolved as a gender because they have not been tested as leaders from the very top at the national level. Do you see my case theprrogramer?


• United States
10 Nov 07
I'd say these examples don't mean women are taking over power from men. Women were already in the political system as senators, governors, representatives, judges, many offices of power and influence. From this perspective (and looking at stateside) its not really power being taken from men... its rights. Men are assumed guilty in several cases of stateside law. Men are portrayed as boorish, lazy or stupid in one division or violent, crass, abusers and killers in another division. Crimes against men are not taken seriously by the law or society. Even relationships/marriages are a losing situation on the social side and the legality side. Remember, supression and removal of rights is the way to not just take power from a block of people, but to possibly have them marginalized or removed from society completely (Nazi Germany, Russia). One thing I will say about Hillary, there is no sure guarantee wars wouldn't have happened or won't happen under her watch or several other possible female U.S. Presidents. Not only that, Hillary and some other top female politicians (along with some men) are beholden to several groups, several sources of power/influence/votes and are willing to do whatever those groups command in order to gain or remain in power; the citizens be damned, they are only votes to many politicans anyway. One thing these politicians will do is continue the status quo, namely some of the unfair parts I described.

• Uganda
11 Nov 07
Fantastic analysis theprogramer, I dare say you must be a seasoned and schooled political scientist!! The views, you raise about men are strong, unfortunately though, they are true!!Being a man myself, I some wish and even dream for a day when take absolute charge of societies literally mismanaged by men.

• China
30 Oct 07
Well, I think that it is ok for either gender to rule the country if she is capable to make the country develop towards the better way. Gender is not a problem and is not supposed to be some block in the process of human progress. Either gender is welcome to me if the country is to be a better one.

• Uganda
31 Oct 07
I agree on the gender thing Williamjisir friend, but you see, in my country, there is this Macho feeling among men who tend to under-rate women. Do you know that until 1915, women were not having voting rights any where in the world? Am very pleased with this-the next thing I want here is that the Chinese Prime Minister is A woman!!(LOL)