Pogo fans:Dominoes get a new look! Plus a speical addition badge...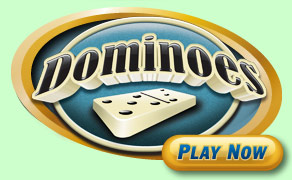 United States
October 30, 2007 2:37pm CST
Well pogo does it again and revamps Dominoes. I played it and I liked almost everything except the board is a little to small,but there is a navigation arrow to help you plus a pivture in picture kind of thin. Also there is a Sweet Tooth special addition badge,where you have to get 10 spins before nov.2nd. So what do you think? and which game should be next to get revamped and why? I want to see Fortune Bingo get revamped so you can see how many bingo's you need to get to the next rank.
3 responses

• United States
30 Oct 07
I started playing sweet tooth this morning, I have 7 of 10. And I got that all in one game before I got the axe that said no more moves! Of course the game kept playing, because I was really tired and just wanted to go to bed!

• United States
31 Oct 07
Lol yea,have you checked out the new dominoes? I like it,been tring to finish up my personal badge so i can go back to play it before bed.

• United States
31 Oct 07
No I haven't had a chance to look at it yet, I am at work, and I am blocked from logging into pogo. Glad I'm not blocked from MyLot and Yuwie!

• Canada
30 Oct 07
Hi babyangie, I honestly had no clue about the Dominoes getting a new look, nor did I know about getting 10 spins before Nov 2nd to get a sweet tooth badge. Thanks so much for sharing! I think it would be kind of neat if the did a Hallowe'en edition of Perfect Pair Solitaire. I really think that around holidays they should have more badges representing that holiday! Thanks again for sharing! PurpleTeddyBear.

• United States
30 Oct 07
No problem friend. I had no idea either until I logged in there,lol. i agree there should be more games with the holiday theme,maybe they will try it out soon. happy playing! and make sure and come back and tell me what you think,ok.

• Canada
1 Nov 07
I took a look at the new Dominos last night, and I must say I was pretty impressed ;) Thanks again for sharing about the changes to Dominos!

• United States
31 Oct 07
I like the regular dominoes okay, but I much perfer the new super dominoes that came out. Not sure if it was out yesterday, but today I found it through the add to my favorites. I like the special features on that one. It makes it more fun for me. I got the Sweet Tooth special badge just like that yesterday. It was easy. I like easy badges sometimes. lol