What colored lights do you prefer to put up at christmas time?

Canada
October 30, 2007 4:34pm CST
Do you put colored lights or just all one color,what about icicle lights or just a long string/line of lights?We love the icicle lights that are colored like candy.What about you??Do you decorate like "The Griswalds"??Haha.With alot of decorations?
4 responses

• Philippines
31 Oct 07
We have two types of christmas lights though both of them are multi-colored, we have the one's which creates sound like christmas carols and the normal ones which changes the tempo of lights!;) I'll be setting up our Christmas tree on the 15th of november, so I guess I'll check the lights to see if they are still working and replace those busted ones!;)

• Canada
31 Oct 07
Hi raijin:)I hate checking lights for broken ones,hehe.Wow,its almost here.Its like times flies lately.Decorating is really fun. Peanutjar:)

• Canada
31 Oct 07
A lot of people use all one color and it's nice however we prefer the multi color strings. I like a lot of color. We do use icicle lights in the clear as well as colored rope lights. Actually one year we won the best decorated home, that was exciting and paid 100.00. Take Care my friend.

• Canada
31 Oct 07
Hi there,i only use the multi color ones like you.Wow!That was fun to win! Peanutjar:)

• Philippines
30 Oct 07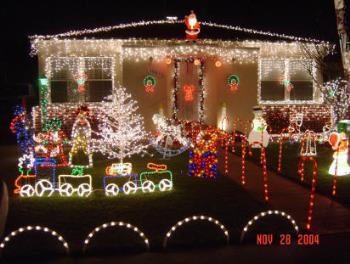 I just bought a 100-colored lights for our Christmas tree this year. It's called STAR RICE lights. It is a combination of functional lights such as chasing flash, in waves, slow fade, sequential, twinkle flash, slow glow and steady on. It's fascinating looking at these colored lights so that my grand daughter wants it turned on 24/7. I am still looking at buying a big star or lantern to be placed in front of the house. This lantern will have colored lights too around it and a big steady bulb at the center. We are excited then to elbrating the yuletide season. Merry Christmas to everyone.

• Canada
31 Oct 07
Hi ryanphil01.Wow,they sound quite nice!:)Yes,its the time to start looking for things to decorate with before the best ones are gone.I waited till the last minute last year and missed a christmas blow up carosel that i wanted,bummer:( Peanutjar:)

• United States
30 Oct 07
I haven't been able to decorate much in the past few years but I can tell you what I WOULD do. I love the white icicle lights so I would hand them from all te eaves. I love the brightly colored lights on everything else. The windows and doors and hopefully my big front porch would be outlined in the small olored lights. The bushes and trees would have the larger colored lights. There would be pine wreaths with big re bows on the doors and white candle lights in all of the windows. Over each window would be a pine swag with a red ribbon. If I had a nice side walk and driveway I would line them with strings of white lights and pine boughs and red ribbons.

• Canada
30 Oct 07
Hi foxyfire33.Wow that would be very pretty and nice to see.I love the real wreaths,i find its not christmas without the real ones instead of fake ones that do not have the smell to them,mmm!sniff,sniff.This year our daughter is 4 1/2 so she cant wait for the decorating and hopefully i will put more.I love it. Peanutjar:)