I Know We Need Them, But Why Do They Have To Spoil Our Countryside?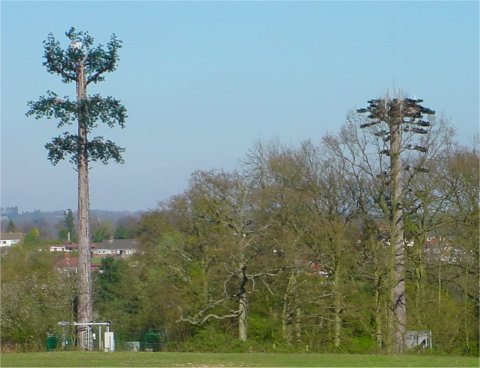 October 30, 2007 5:07pm CST
I was walking out to one of my favourite places the other day, happy as a sandboy. I walked to the bottom of the Street, with the South Downs hazy in the distant south, and trees lining the sides of the road, all changing colour and beautiful to see. Ok, the road is partially dug up because they're laying new storm drains and pipes, but I expected that, and my pathway was still accessible. Anyhow, I reached the bottom of the Street, where I turn left, on the A272, to head towards the gate to the field across which I have to walk, to get to the woods and the millponds. So, I was walking alongside the A272, looking around me, I love to look towards the South Downs and all around me to see how nature is changing. Well!!! You can imagine how disgruntled I was when I neared the field gate, to notice there, in the edge of the woods lining the path, had appeared a Broadband Aerial Pylon. Eeeeek!!! I was not happy... they had all those woods... privately owned though they are... to plonk a pylon in, but no... there it was, a huge, ugly, grey structure, stuck right at the edge of the woods and clearly visible. As I said, I know we need them, and possibly, I wouldn't get Broadband if it wasn't there, but it pains me as to why they have to locate them in such pretty areas, thus rendering them an eyesore. Sureley, they can supply Broadband underground, as do others... and they're digging up the Street, so they could incorporate the two into one job. Isn't it bad enough that we have electricity pylons spanning our countryside, and besides, aren't these a health hazard? Do you have an eyesore aerial for your Broadband, and do you know where it's located? Below is a picture of a couple of tree masts which mobile phone network suppliers have deployed in national parks and such like in England. They certainly blend in better with the surrounding countryside. Maybe Broadband should follow suit? What do you think?
6 responses

• United States
31 Oct 07
So sorry your vewi got messed up and no power lines dont hurt you. But it is nicer when all goes under ground and I know they can put power lines and cable and all under the ground just dont dig in those areas lol HUbby was a line man for 35 years untill he retired. So I know all about electricity. they are a sight but they have tried to make them ortamental but they dont look that good either guess we will just have to put up with it. I feel proud when driving across country and see where he worked The Steal Towers look better that the wood poles thats for sure hugs


• United States
31 Oct 07
yes I know they sing the Indians called them the singing wires. and we had teh same thing in Minn. when the people didnt want the power lines to go thru even after the right of way had been bought . It was reported that anyone living close to a power line couldnt produce babys HUH/ all the fellers working on them had lots of kids and then the Gov came back with good then he would have them build the prostute house under them to make sure that not a one of them got PG well several of them did any how. Yes teh media can come up with alot of reasons why a power line shouldnt be built across rural country But we all lived with it and nothing happened to us or our kids. The worst thing for the lineman to work around is asbestos. I will look at the link and talk to ya later ok? ' hugs

•
1 Nov 07
But, tests and surveys have been undertaken, my friend, and they came back with a 50% chance of all these risks being true, although small. My thoughts are more for the kids here. I won't take my grandchildren too close when we're walking, and now they've plonked one right at the bottom of the village. We already have a mobile phone mast at the top garage, so now we're surrounded!!! lol. Your points are valid though, and yes, asbestos is a very dangerous thing to work with. When it's discovered, it IS removed though, unlike the power pylons. grrrrrrrrr. :) Brightest Blessings my dear friend. xxx


• Edinburgh, Scotland
5 Nov 07
Arnt those lovely massive wind turbines in the ocean a site to see from the people lucky enough to be able to see them from the window of thier living room or from the sandunes whilst loungeing on thier sunbeds. If they are close enough they can hear the whoosh whoosh of the propellers as they go round and round on thier gracefull never ending revolutions. So gracefull looking as they are in perfect lines with each other and sometimes more gracefull when all the propellers get into syncronization with each other. That reminds me, I must get permission from the council to have my sky dish erected. Have a nice virew from Deeeky

•
6 Nov 07
Tell me about it! There is a whole line of those ugly propellors... about two miles of them, side by side... across the hilltops in the Dales above Holmfirth. You can go to the top of the hills and look north and west for a beautiful view of the Yorkshire countryside, but look east, and what do you see... they're not even green in colour, they're white, and stand out like a sore thumb! Grrrrrrrrrr... makes me angry! Brightest Blessings. :)

• Philippines
5 Nov 07
I live in a country side also, which I know see as part country and part city. I guess it's all about the rapid development and industrialization, since the country needs to cope up with their so-called "fast-paced" era. It really destroys the sceneic views, the memories and the simple beauty of the place. I wished that they should've done something about these poles and pylons, they could've just put these wires under instead of posting them up high and over-shadowing nature.

• United Kingdom
5 Nov 07
It is a shame when the countryside has its beauty spoiled by ugly looking broadband and mobile phone masts. I used to live a small village, three miles away a city had broadband but my village did not. One person tried very had to get the village broadband and in 2005 it finally arrived, just at the same time I moved. I guess the masts do have to go somewhere but I think they should be made to look as attractive as possible. I saw a mobile phone mast in Portugal that looked like a very tall tree indeed. The most beautiful place I have ever been is Moorea in French Polynesia. That is because wires for lighting were put underground, meaning that the view is perfect without ugly cables in the way.

•
6 Nov 07
Yes, I think underground cables would be far better, but these days they think more of the cost of transferring them, than they do about the beauty of nature. To my mind, nature is one of the best gifts we have, so why ruin it with ugly structures like pylons? They weren't meant to be there! Brightest Blessings.


•
6 Nov 07
Oh, I do that as far as possible, but sometimes they just block and ruin a terrific view. I get frustrated, and the wind turbines, they have in rows close together, so they're like a wall across the hilltops. Grrrrrrrrrrrr... do they have to? Brightest Blessings, love and hugs. xxx

• United Kingdom
31 Oct 07
No I do not think that I have round here not that I have seen it anyway but as you say why can they not put them in better places where they are hidden or not so noticeable I guess they have to put them where the signal is the strongest Love and Hugs

•
31 Oct 07

On the contrary my friend. I found this picture of pylons, named Essex Pylons. I don't know where in Essex they are, and I can't say I noticed any close to where you live, but I think they're all over the country, if not the British Isles. I know it would cost a bit to put them all underground and would involve digging up parts of the countryside initially but surely in the long run, it would work out cheaper than maintaining those eyesores and the cables, and even decrease the health risks involved. With the internet and mobile phone suppliers, yes, I suppose they have to put them where they receive and give out a better signal, but if they disguised them as trees, as in my initial picture, it would surely make a lot of difference to how noticeable they were, as they would blend in with the surrounding trees. It would also very probably be cheaper for them not to have to use all that metal, in their construction. Love and hugs. xxx